Before your recycle your cardboard, consider re-using it for play time and craft time!
Some of our favourite activites have come from random objects in the house.  My son spend a long time when he was just wee rolling potatoes around the house, or piling them into his toy dump truck.
Cardboard boxes have long been joked to be a favourite among kids.  I think a simple box is appealing to creative minds.  They can be towers, or cars or doll beds.
Here are three of our favourite activities that I've posted on the blog that the kids have done.  Before you put out your recycling this weekend, check to see if you can do any of these!
Have fun!
This was one of the most fun activities we did when we had a bunch of boxes lying around.  Set up a sorting centre for letters and packages, plus place mail boxes in the house for drop points then send your little mail collectors out to get them. Use small granola bar or cracker boxes and wrap them in white paper for parcels. Don't forget your stamps!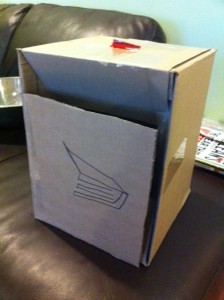 Find stained T-shirts or ones that don't really fit anymore and get creative by painting your own shirt! Use cardboard to make fun stencils – shapes or letters – and create!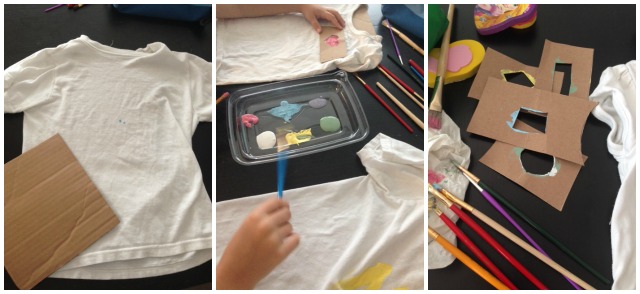 Print a colouring page and have your child colour it.  Print anything they want, but a single object would be easiest for younger sets.
Then, using construction paper or the back of a cereal box (this will be firmer and easier to piece together), glue the coloured picture on top. Cut in puzzle shapes and have fun putting it back together!