March break is coming up for many kids in the Ottawa area! For the first time ever, we are travelling south for March break. Normally, I plan the break around museum visits and play dates so here are a few events taking place this week!
Events around Ottawa Happening for March Break
1-Dinosaur Train live on Stage*
Do you have your tickets for Dinosaur Train live on stage at Centrepointe Theatres?  I love a good stage show, and this looks like a lot of fun! Plus, every time I write or say Dinosaur Train I end up with the song in my head!
2- Minecraft at the Canada Aviation and Space Museum
I'm told that a lot of the sessions for the 8-10 year olds are sold out, but if you have older kids, there may still be space! Plus, the Museum is fabulous to visit anyway!
Our favourite toy store is running special promotions and craft take-aways each day during the break.  It's a great time to stock up on crafts or science activities, plus let the kids make and take!
The City of Ottawa Museums are packed with daily drop in programs. Become a space ranger at the Cumberland Museum, or journey to the moon at Billing Estate National Historic Site.
Many of the libraries across the city of March Break programs that are free!
6- Visit a Sugar Bush
It's Maple Syrup time! Rejoice! Capital Parent Newspaper has a great article about where to find sugar bushes in Ottawa. We often take the drive to Sand Road Maple Farm too!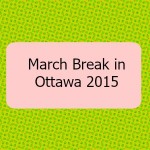 *blog advertisers