A gorgeous looking cookie worthy of any Spring dessert table
With Easter just around the corner, and Spring hopefully making an actual weather-related appearance soon, now is the perfect time to experiment in the kitchen for your Easter dinner table or next get together. I like pretty, light colours on the table this time of year. Fresh lemons (and lemon recipes) with soft yellow flowers set on the table or soft pastels straws peeking from a drink glass, or swirled in sweet icing on a cupcake.  With every season, our food changes too.
Kraft Canada has a huge selection of simple and delicious ideas for your Easter brunch or dinner, and of course dessert options.  I'm bookmarking this lemon-ginger loaf cake for future baking.
Last year, my Bunny Bark was an addictive success. This year, I'm working with Baker's White Chocolate again. I love being able to decorate melted white chocolate with any colour I want.  Pastel sprinkles is all I need again!
Using my traditional shortbread recipe, I made these white chocolate dipped shortbread cookies.  They were instantly a hit.
If we leave cookies for Santa, should I start leaving cookies for the Easter Bunny too?
Enjoy!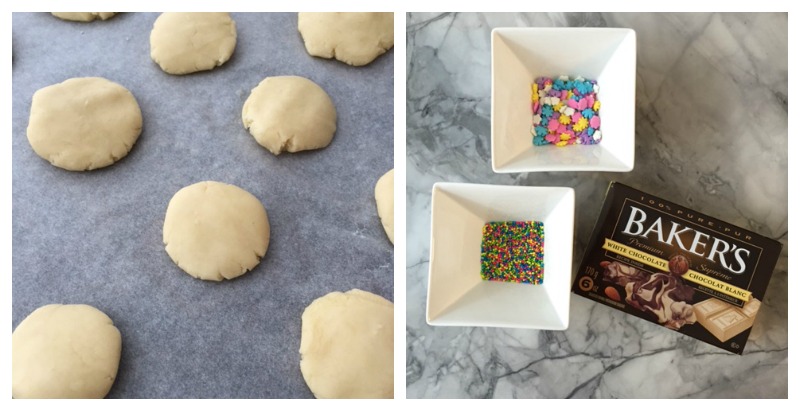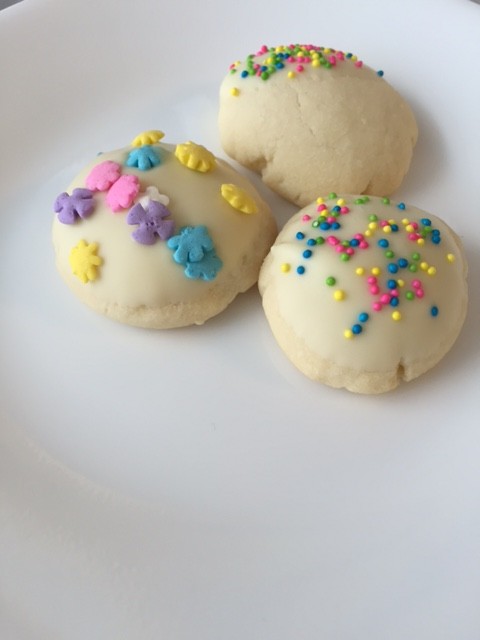 White Chocolate Dipped Shortbread Cookies
To make:
Prepare your favourite shortbread cookie recipe.
Using 1 tsp of the dough, roll into a ball then flatten in the palm of your hand to make coin shaped cookies.
Baking at 350 degrees for about 10 minutes, or until the bottoms are becoming golden brown.  Remove and cool.
In a double burner or microwave, melt the white chocolate.
Dip the cooled cookie into the white chocolate. I did it two ways; half dipped or dipping the top.
Sprinkle on your favourite sprinkles.  Place on parchment paper and let firm up. Put the cooking in the fridge or freezer to speed this along.
Watch everyone hop to the counter when you put them out!
Disclosure: I am part of the Kraft Canada What's Cooking Contributor group and receive compensation for my post.  All opinions are my own. I don't actually believe we should leave cookies for the Easter Bunny 😉