With Earth Day just around the corner, April is the perfect time of year to review ways to be more green and eco-conscious at home.
I've made no secret on this blog that we try to make small steps to be a green family; whether the goal is to better serve the environment or reduce toxins that we are exposed to, I'm constantly learning and changing our approaches. There is no one-size-fits-all way to be green (at least, I don't think so). The important part is that we try. And the more all of us try and educate ourselves to alternatives and sustainable options, the better off we will all be!
Take a few moments this spring to try some new ways to not only become more green, but save the green as well, money that is (that joke has never been done in the context of eco stuff right?).
How to be more Green this Spring
1- Start to Compost
Research your local city compost program and find out what can and cannot be composted that way.  If you want to start a small, back yard compost, consider finding an outdoor compost system, or research what kitchen scraps can be used in your garden (coffee grinds maybe!)
2- Reduce Packaging
The next time you are at the store and you only buy a few items, bring your own reusable bag or take a pass on the store's bag.  If you are just going back to the car, then having a bag won't make a big difference, but reducing the plastic bags that are floating around (literally, in many fields) will make a difference!
3- Use a programmable Smart Thermostat
Not only does having a thermostat that is programmable save energy when you travel (that's when we often use it!) or when you aren't at home, but Hydro One customers can receive $100 by enrolling in the Bring Your Own Thermostat pilot program.  This program allows Hydro One to make limited adjustments to your thermostat (via Wi-Fi) during peak demand periods.  It's an interesting concept that can save energy and money.  You will need a specific type of thermostat to set it up. Details are on their website.
One of the authorized thermostats is the ecobee. Purchase an ecobee smart thermostat and save $25 with code h1save25a until April 30.  Those are some great savings when combined with the Hydro One offer!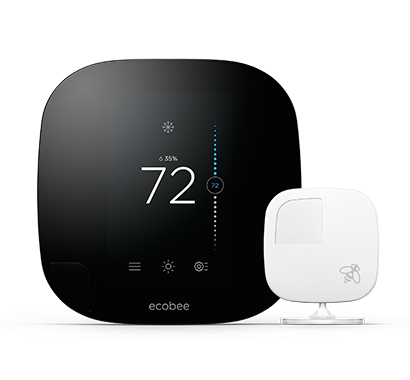 What small steps will you take this Spring to become more eco-conscious? 
* Note that in order to participate, you must be a Hydro One customer, and your Wi-Fi thermostat must be connected to a central air conditioning system.  Heat pump systems other than air source are not eligible for the pilot.
Disclosure: I was compensated for this post, but opinions are my own. This is not an endorsement or recommendation for the Hydro One pilot program, but it is an endorsement for saving money and greener living.