Summer days mean easy summer suppers. My favourite meals are the most simple meals. I love being able to pack a picnic, grabbing food from a food truck,  left overs; these are my types of meals.
That's why when we've had a busy day of playing, museum visiting, playground running around and more, I am looking for something quick and simple.
Enter my love for the simplistic flat bread pizza. Not only do you buy the crust ahead of time (hello naan), but you can use any toppings that you have in the garden or fridge.
A recent brushetta-style pizza topping with grated parmesean was exactly what I wanted on a hot day. The oven barely had to be on (and if we had a BBQ, which is on the list to get again soon, we could have used that too).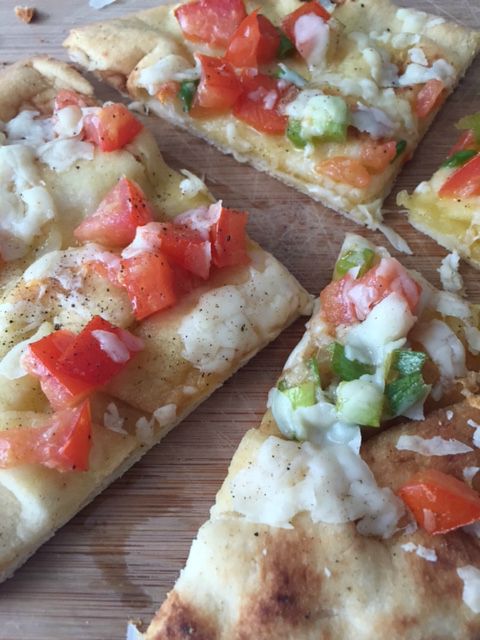 Garlic Tomato Flat bread pizza
Ingredients (makes 2 small pizzas) 
2 pieces of naan
1 tomato, chopped
1 garlic clove, grated
1 green onion, chopped
Kraft parmesean cheese
olive oil
pepper
Directions:
Combine tomato, onion, garlic and a splash of olive oil.
Divide equally and top each naan with the mixture. Sprinkle as mush grated parmesean cheese on as you like. Top with pepper and drizzle a bit more olive oil.
Bake in the oven at 375 degrees until the sides are crisping, about 10-15 minutes. Use a grill if you prefer.
Enjoy!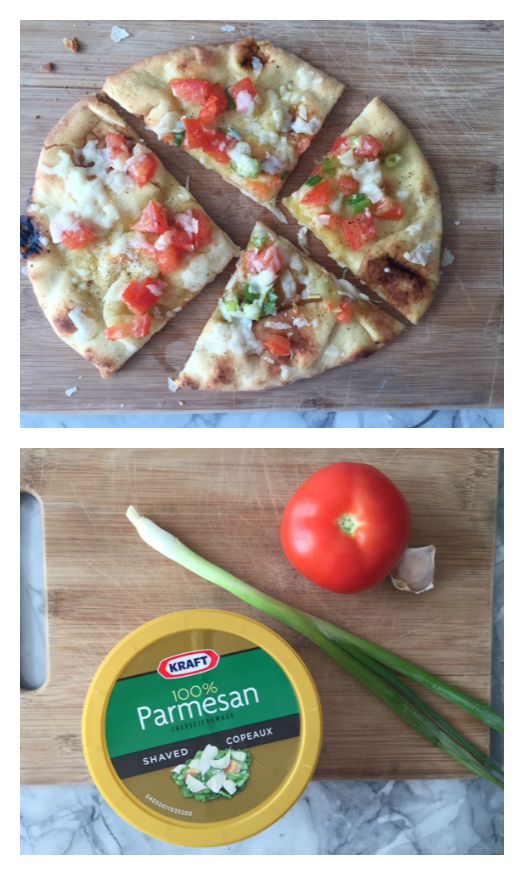 Disclosure: This post is part of my What's Cooking contributor partnership with Kraft Canada and I receive compensation as part of the program.  And yes, it's wild that I don't have a BBQ.