What do you consider essential to your backyard?
We are constantly trying to improve our little back yard. I've written about it numerous times before. My sister has a small yard, and yet her treed lot that provides her natural shade, her gorgeous cedar fence and her keen eye for cute decor makes it feel so inviting. I aspire to set our yard up like that, and yet we always run into a few issues.
We like to entertain back there, but the space itself is primarily for us. The kids play in the sprinkler, or colour with chalk, and Andy and I like to sit and chat with our coffee or a summer drink. There are certain elements in the yard, no matter how big or small, that are important to us: Shade, a comfortable place to sit, and a BBQ.  The latter is something I don't have! I'll get to that in a bit.
Shade is paramount and yet in our backyard it's been one of the hardest elements to ensure we have. We toyed with the idea of a giant umbrella, but anchoring it was an issue. We did settle on a portable, folding shade canopy that is easy to put up and down, but isn't permanent. After many years, one of our trees is finally big enough that it provides us with glorious, needed shade.  Our yard is all sun in the late afternoon and early evening, so the tree is in the perfect location.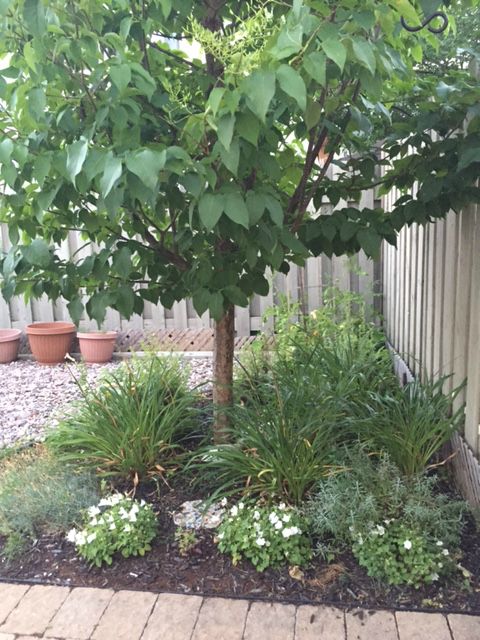 I go back and forth about furniture all the time. I want a living room style set up, and yet the price tends to keep me away. We do have two folding chair loungers that are very comfortable (and have a drink holder) but when we have company, we would like to have a few more spots that offer the same comfort as our living room.
Perhaps one of the most important items that we don't currently have in our backyard is a BBQ. We got one as a gift from my parents when we were married and it lasted a number of years, but three years ago, it died and we didn't replace it. At first, we thought we didn't need to replace it. But now, years later, we are finding ourselves browsing online for a small BBQ to put on the deck to help relieve the pressures of summer cooking.
Mostly, when I am looking at BBQ recipes, I start to lament not having one. Check out the BBQ recipes on Ricardo's Cuisine, a Canadian resource for yummy food.
My mouth waters when I look at these recipes and I think about how it would be fantastic to whip them up myself.
When I get a new BBQ, what recipe will I go to first? I am thinking a nice side dish, like this corn and avocado salsa, or a traditional baked potato with a twist.
Or maybe I should go directly for the main course and make this white fish and chorizo or spiced chicken dish that I think even the kids would love!
Now I'm hungry.
I don't think I can really go wrong, do you?
This summer, I am finally dedicated to replacing our BBQ, and plan to extend the BBQ season into the Fall.
What do you think? Is a BBQ a must-have essential for your cooking?
Disclosure:This is a sponsored post however, all opinions are my own. And yes, I need to get a new BBQ.  Especially after having browsed through all of these recipes that I'm missing out on making!