There are so many gorgeous spots across PEI that it's hard to just narrow down the locations to highlight on the blog. If you follow my Instagram, you'll have noticed that in August I was sharing some of my favourite pictures from our trip to PEI, including some great bites of food.
During the two week were were on the Island, we had gorgeous weather, short of a couple cooler, gray days, and we've had a perfect balance of touring the Island, taking in the sites, and staying at our cottage.
One of our most favourite places to visit is Greenwich National Park. This is a place that offers infinite beauty, as well as a nearby beach that is great for swimming, plus the feeling that we are at a truly stunning natural setting.
The walk to get to the water when entering the Greenwich National Park can be long for tiny feet, so I recommend bringing a lot of water like we did. It was a hot day that only got hotter as we came back.  But the walk is worth it. My husband described it to the kids as having four levels: A gravel, field walk way, a forest, a boardwalk, and a beach. Each unique in it's own beauty. Everywhere you turn is a photo opportunity.
After our walk and dipping our toes into the wavy water, we needed to swim, so we drove to the nearby life guarded swimming beach of Greenwich, changed in the change rooms and jumped in. It was the cooling down we all needed.  We splashed, we swam, we laugh. Definitely a highlight of the day.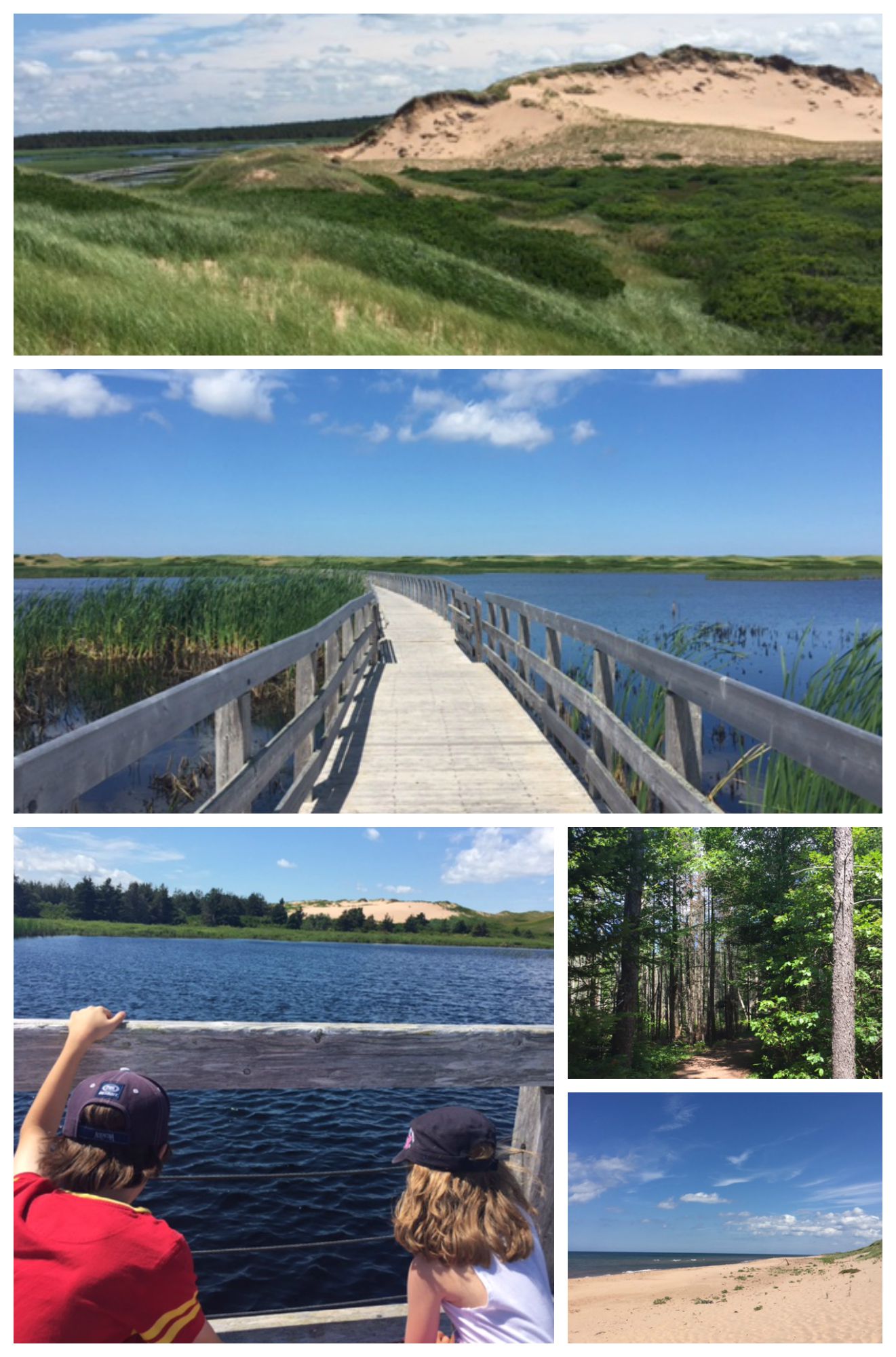 Planning to go?
Bring water for your walk! Each way along the board walk is about 30-45 minutes.
There is an outhouse at the beginning of the walk, but that's hit. Plan accordingly.
Strollers can go on the path, but once you get to the beach there's an incline. I saw some people park their strollers to walk up and over the  dunes into the beach area.
Looking to eat? We brought a picnic with us. There are a few picnic tables, but we just ate while in the parking lot. Want a restaurant? The nearby Rick's Fish and Chips is worth the stop. On our way back, we grabbed some clam strips to munch on.