It's no secret that we love to write in this family. The kids always have a pen and paper at their disposal to create and write anytime they want.
While we are living in a world that depends on our technology, and while most of what I write is on a laptop, it's hard to beat using the perfect pen or freshly sharpened pencil to write. I still use a traditional agenda and to-do lists, even though I am dependent on my Google calendar as well. I still like to visually use different colours of pens to mark off special dates or notes that I want to remember.
I'm not the only one. Across the house, you won't get very far without stumbling onto a pen or pencil. We have baskets and containers with them everywhere.
What are my kids writing? My eldest likes to draft comic strips. The youngest draws but then writes little words to go with her scene. I hope they never lose their desire to write!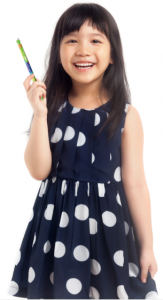 I was excited when information about the BIC Fight For Your Write in support of Breakfast Club of Canada campaign came into my inbox.
They are collecting signatures online to help commit to more handwriting. Even though my handwriting is terrible, I still think it's important! In addition, they are making a $10,000 donation to Breakfast Club of Canada. I think it's a fun campaign and one that I can get behind!
From their information kit:
"60% of learning in school happens before lunch making breakfast food, brain food. That's why BIC Fight For Your Write is also partnering with Breakfast Club of Canada and donating $10,000 directly to the organization and giving an additional $10,000 (retail value) of stationery supplies to Canadian schools in need."
Meanwhile, if you are looking for ways to encourage your kids to write by hand more, here are 5 tips from the BIC Fight For Your Write website. 
You can learn more about the campaign on their website, and take the pledge! I already have.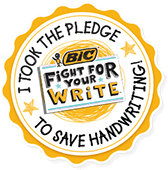 __
Disclosure: I received this information via email and loved the campaign enough to write about!