It's that time of year again! Time for our activity advent! I've been doing this with the kids since 2009 (thanks to a post I read on A Peek Inside the Fishbowl) and have loved it every since. As the kids have gotten older, they've clearly become quite attached to it as well. Last week, they kept reminding me at the 1st of December was coming and that we needed to get our activities ready!
You can click here to read the activities from previous years, as with most things, the list has grown with my children!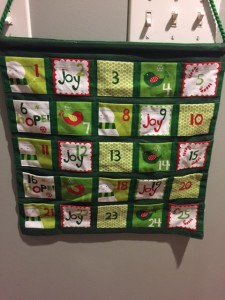 I can't recommend doing this enough! (note: When I print the slips of paper to tuck in our calendar, I don't date them because sometimes, I have to fiddle around with the activity and change it!)
25 Days of Christmas Calendar 2015
1. Write and mail letters to Santa.
2. Make paper snowflakes and decorate the windows
3. Dessert for supper, supper for dessert!
4. Sing Jingle Bells – get a special chocolate treat
5. Bake a batch of Christmas cookies.
6. Go get the Christmas Tree!
7. Decorate the Christmas Tree!
8. Sing Frosty the Snowman. Enjoy a special chocolate treat.
9. Make a special craft!
10. Play the 'wrapping paper' music game – find a surprise!
11. Go to the Cumberland Village of Lights
12. Enjoy a mini Christmas with friends!
13. Watch a Muppet Christmas Carol and Make Hot Chocolate.
14. Make a list of ten things we are thankful for. Hang it where you can see it every day.
15. Buy and Bring toys to Toy Mountain
16. Play Christmas hide and seek with a Christmas bear! Can you find him?
17. Go for a drive to see Christmas lights
18. Bring Snow in the house to play in a bucket. Put some in the freezer, some in the fridge. What happens? Read the book 'Snow'
19.  Christmas PJ party! Stay in your pjs all day, watch Christmas shows, read Christmas stories and snuggle!
20. Make a Gingerbread House and decorate it!
21. Bake Christmas cookies and deliver some to your friends and family
22. Sing We Wish you a Merry Christmas. Enjoy a chocolate treat
23. Bring in snow and make maple syrup taffy!
24. Unwrap one present (mommy and daddy get to pick which one)
25.  It's Christmas Day. Remember you have a family who loves you. And that's the most important gift of all.