When I first saw the sign for Chocolats Favoris going up near my neighbourhood I was not only excited at the thought of a new chocolate shop being nearby, but also one that sells ice cream. I didn't know anything about the brand, but a quick search quickly showed me all I needed to know – endless dipped ice cream combinations and other tasty treats would be available.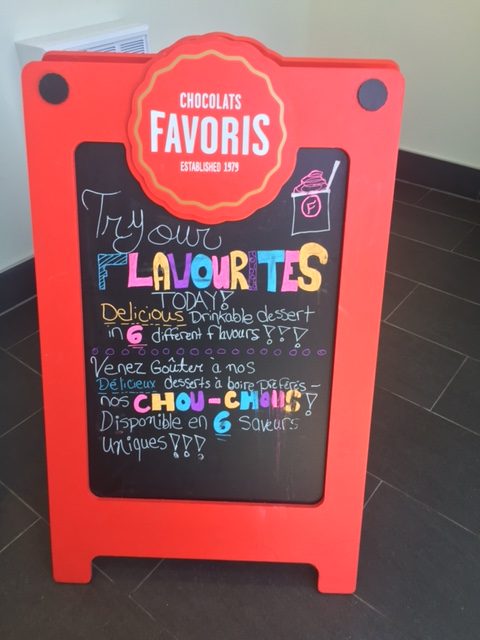 It opened to a lot of excited Orleans residents in June (it's located near the 10th Line Road Farm Boy) and we waited until school was done (and Andy was off work) to take the kids and indulge. We are glad we finally did.
The selections are outstanding – while the ice cream itself can be strawberry, chocolate or vanilla (at least those were the choices the day we were there), the dips seem endless. The kids had milk chocolate, Andy chose a dark chocolate and hazelnut (although he almost went with salted caramel) and I had Dulce de Leche. You can imagine how much we loved it. My son declared it his new favourite ice cream place in Ottawa.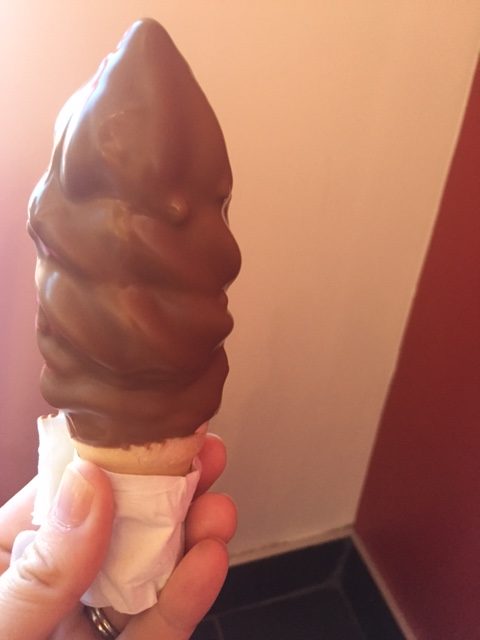 A few tips:
We all had the mini cones which were plenty. Given the richness of the topping that I had, I probably could have gone with the baby size (the kids too for that matter!)
There is indoor and outdoor seating. It was hot and sunny when we were there but the back seemed to have some shade.
There is more than just ice cream. There are chocolate treats, goodies and truffles to purchase as well. These would make great gifts! (hint)
Have you tried Chocolats Favoris in Ottawa yet? We will definitely be going back!
For more ice cream spots in Ottawa, check out this SavvyMom article!
EDITED TO ADD:
My son has written his own report. I have copied what he wrote (I mean, he used the word parlour! How great is that?)
A 9 year old's thoughts on Chocolats Favoris:
"I think Chocolats Favoris is one of the best ice cream parlours I've been to. In fact, I recommend it so much that I would give it a ten out of ten rating. Basically, you can choose your flavour, pick your size (baby, mini, small, medium, large) then, you choose your icing (covers your ice cream). Then, say all those at the front desk. Then, enjoy yourself at Chocolat Favoris, the best ice cream parlour you've probably ever tasted."