Even when I plan ahead and grocery shop with care, there are far too many nights during the week that I just don't know what to make for dinner. Or, more accurately, I just want a quick, easy recipe that takes little effort but tastes delicious. I think this is why I am so drawn to a one-pot pasta dish.
It has changed my world knowing that I can make dry pasta into something tasty without boiling it first. I have used the Kraft Canada lasagna recipe for years now, and more recently started making one-pot pasta dishes. I like that the recipes are easy to follow (like this one-pot penne pasta recipe that uses bacon, although really, you could add a variety of flavours!) and that they are all done using only one dish.
Do you keep a jar of pasta sauce in your pantry like I do? Or maybe you have some homemade sauce in the freezer at all times? This is when that sauce is really great to use. It's already seasoned and all you have to do is at meat if you want (unless your sauce already has it!).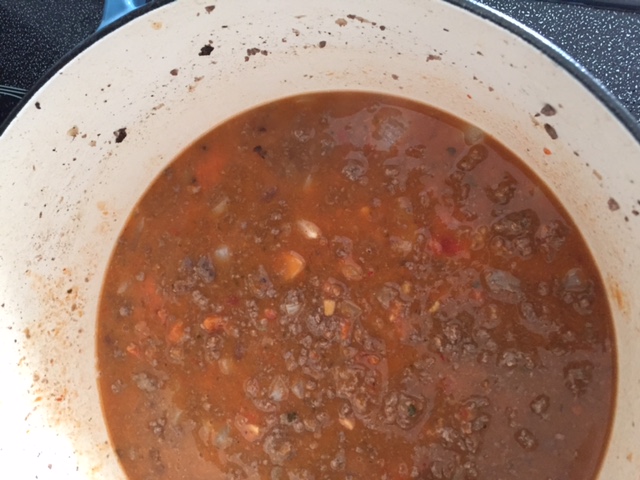 For my latest one-pot dish, I used a Spicy Tomato and Parmesean sauce from Classico. It had a little hit of heat which was really flavourful. When cooking, having ingredients on hand that are easy to use and ready to go can be really helpful. While homemade is always the way to go when possible, I like keeping some handy pantry helpers at the ready.
My one-post dish:
Brown hamburg meat.
Add garlic and onions
Add one jar of sauce
Add one jar plus 1/3 jar of water
Add 3 cups of dry bowtie pasta and let it cook until it was done!!
TIP: Keep an eye on the liquid content. Add extra water as needed to cook the pasta, depending on pot, heat etc. it may require more than originally called for.
---
Disclosure: I am a Kraft Heinz What's Cooking Ambassador and receive compensation for this post. All opinions are my own. I truly believe that any meal that can be made with only one dish to dirty is a bonus for me!