Do you remember letting your imagination soar when you were a child? Through pretend play, dress up and dolls, I was able to explore different worlds and make new friends. It's so nice to see the same sense of wonder through the eyes of my own children. When my daughter received a Maplelea Doll last year, she instantly was connected to her. It's not hard to imagine why; not only are the dolls perfect for girls and boys who love to play pretend, but the accessories, outfits and the Canadiana of the dolls really connect with children.
Léonie in Ottawa
I think it's nice to browse through the Maplelea catalogue and recognize Canadian places, activities and traditions.  Living in Ottawa, we get to enjoy a lot of what this country has to offer right here, especially with the 150th Canada Day celebrations coming up in 2017.
My kids love so many things about this City. They enjoy taking walks at the beach nearby, playing in the fields or at the parks, they like hiking in the Gatineau Hills and visiting fairs, festivals and fun days. There are many, many museums in Ottawa, and the kids love exploring all of them.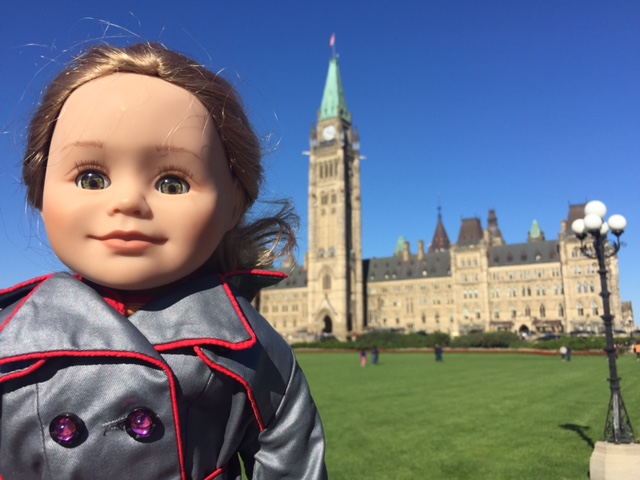 Our love for the City, and for Canada (it's no secret we like to travel, and Canada is an exciting place to explore!), may be why the Maplelea dolls are so appealing for us. On a recent trip to Chateau Montebello, my daughter insisted that Léonie come for the visit. She lounged with her in bed, and enjoyed some time by the pool while we swam. These are the moments that I love; watching my daughter's imagination soar. Even at home, while dressing Léonie, and playing with Piccolo, she's in a mini world of her own that is sweet and kind and I hope that world lasts a long time.
There are many reasons why she has so much fun with her Maplelea Doll. Here are a few reasons why I, as a parent, think her Maplelea Doll has been a welcome addition to her group of pretend playmates.
I love how the sky is the limit when it comes to using her imagination with her Maplelea doll. She loves to pretend to play school, or have an adventure. I can hear her talking to Léonie in her bedroom while she is playing (or reading a book to her) and the innocence and joy that come out in her voice melt my heart. We have a few different accessories like the lounger and a variety of clothing items that she really enjoys playing with.
These truly are Canadian dolls. The company is Canadian, and the themes for all of the dolls are Canadian. Browsing the catalogue, it's easy to see how different dolls come from various parts of our vast country with interests that are quite regional. No matter which doll your child has, they can find accessories from any of the doll lines that really speak to them and their own personalities. I have a friend who's daughter does Highland Dancing, so she would love the Highland dress outfit!
I also love the journal entries that come with each doll and accessory. We've added pages to Léonie's journal that include information on her hometown, on Ottawa, and other tidbits that are filled with Canadian trivia, activities and information. This is a really great way for my daughter to learn more about Canada and interact more with her doll.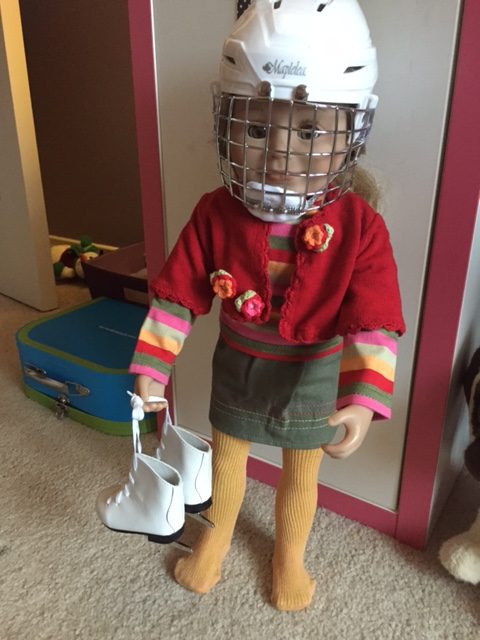 I'm pretty sure these dolls are better dressed than I am, but with a fashionista for a daughter, who has her own sense of style at the age of 7, it's wonderful to see so many unique, fun clothing options. Whether it's an outfit that is interest specific (like for dancing, horseback riding or a sport), or an outfit that just shares a little bit of the doll's (and our kids') personalities, I like that there is so much choice.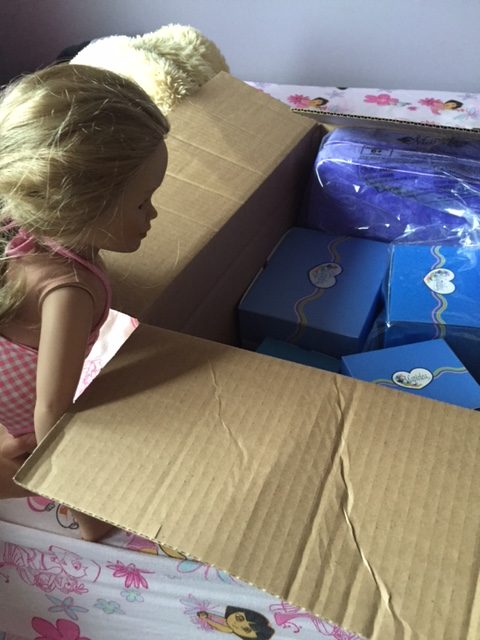 She grows with my daughter
While my daughter has gone through different stages where she liked to play with baby dolls – feeding them, rocking them to sleep, wearing them – I think she is really enjoying having a doll that is meant to be closer to her age. Again, she's able to let some of her own personal interests shine through Léonie and can experience our adventures as a family in a way that she thinks Léonie would enjoy them too.
Meet Léonie!
Want to meet Léonie? She's been a wonderful friend to our daughter and it has been fun to watch them play together. In this video, we share a bit about why Ottawa is such a wonderful City, some of my daughter's favourite things to do here, and how Léonie is enjoying her time with us. (Yes, the narration is by my 7 year old who also helped write the script!)
When you are planning for unique, special holiday and birthday gifts, Maplelea Dolls would be a wonderful addition.  Léonie has been a welcome guest in our home.
---
 This post is part of the YummyMummyClub.ca and the Maplelea #MapleleaLove sponsored program. I received compensation as a thank you for my participation. This post reflects my personal opinion about the information provided by the sponsors.