I love easy meals. As much as I am a really big fan of delicious food, and fancy presentation, I still think that easy cooking can be not only tasty and healthy, but enjoyable to make as well.
During a busy weeknight especially, when I don't have time to do elaborate planning or to stand by the stove for extended periods of time, I need recipes that will feed us, taste good, but not take forever to make. This time of year especially (although, I could pinpoint various months where we suddenly are swamped with sports, commitments, school events and more) I'm looking for meals that are quick.
It's probably one reason why I've always loved the Dairy Farmers of Canada Milk Calendar. This year, the Calendar celebrates 40 years and the 2017 calendar reflects that history. I love that all recipes since 1974 are available online.
My grandfather was a dairy farmer, so drinking, baking and cooking with milk is all part of my childhood. Even as I got older and moved out, I continued to search for ways to eat well, and incorporate the flavours of my childhood which were comforting. I can remember in university getting the calendar and using recipes from it. There was one I remembered especially because it was easy to make and could be done fairly inexpensively plus was tasty. I looked it up on the Milk Calendar and this pasta recipe seems to be the one. I remember skipping the mushrooms and usually using broccoli instead. I may have the cut out recipe somewhere still! I made it a lot.
When the Dairy Farmers of Canada reached out for me to try to make a recipe from their newest calendar, I was excited to do so. There are so many delicious and easy sounding recipes in the 2017 calendar, but after making this red pepper and spinach quiche dish, I know we will be making it again. It was full of veggies and cheese, tasted amazing and came together easily. This would make an impressive brunch dish, or just something to enjoy for dinner.
Want to try it yourself? Here's the full recipe on the Milk Calendar website: Roasted Red Pepper Crustless Quiche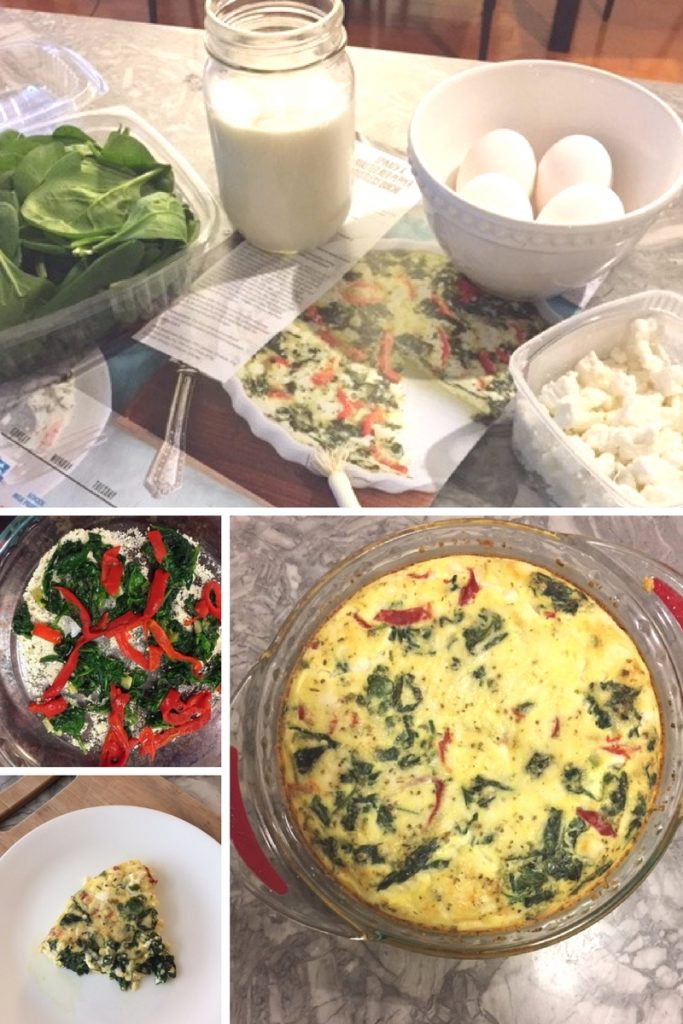 ENTER TO WIN
Exciting news! You have a chance to win a Cheese basket from my friends at the Dairy Farmers of Canada (value is approximately $150!)
To enter, head over to the quiche recipe link to read all about it, then come back and tell me how you would make your own twist on the recipe.
PS: Click here for details on how to get your Milk Calendar!
Giveaway is open until December 18, 2016 at 5 pm EST to Canadian residents of legal age, void in Quebec. One winner will be chosen from eligible entries at random. One entry per person. Winner will have 48 hours to confirm prize. Winner will have to provide mailing address that I will send to a third party to arrange delivery of gift basket which will arrive in early 2017. 
Disclosure: This post is sponsored by the Dairy Farmers of Canada and I received compensation, however, all opinions are my own.