This past weekend, my family and I were invited on a press trip to Montreal to participate in Fête des neiges, an annual winter fun fest that is held at Parc Jean Drapeau.
We weren't sure what to expect, but were happy to head out on an adventure. Montreal is only about 2 hours away from Ottawa's East End and it's a city we always talk about going to more often. Besides that, we tend to isolate ourselves far too much in the winter, lamenting colder temperatures, ice and snow so finding a family-friendly way that we can all get outside and actually enjoy winter was a welcome plan.
The short summary is this: We had a blast. It didn't hurt that we had day with extremely mild temperatures and no wind. While there were little sprinkles of rain on us, it wasn't an issue at all. The site itself had plenty of room to stroll around and it never felt overrun (even though the crowds were plentiful). Outdoor venues like this have the benefit of not feeling too crowded I think. As the afternoon went on, the tubing hill was packed. We could have waited for tubes to free up, but we had already spent most of the morning on the hill and it was the end of the day so we weren't distressed. This is why it's good to go there early though.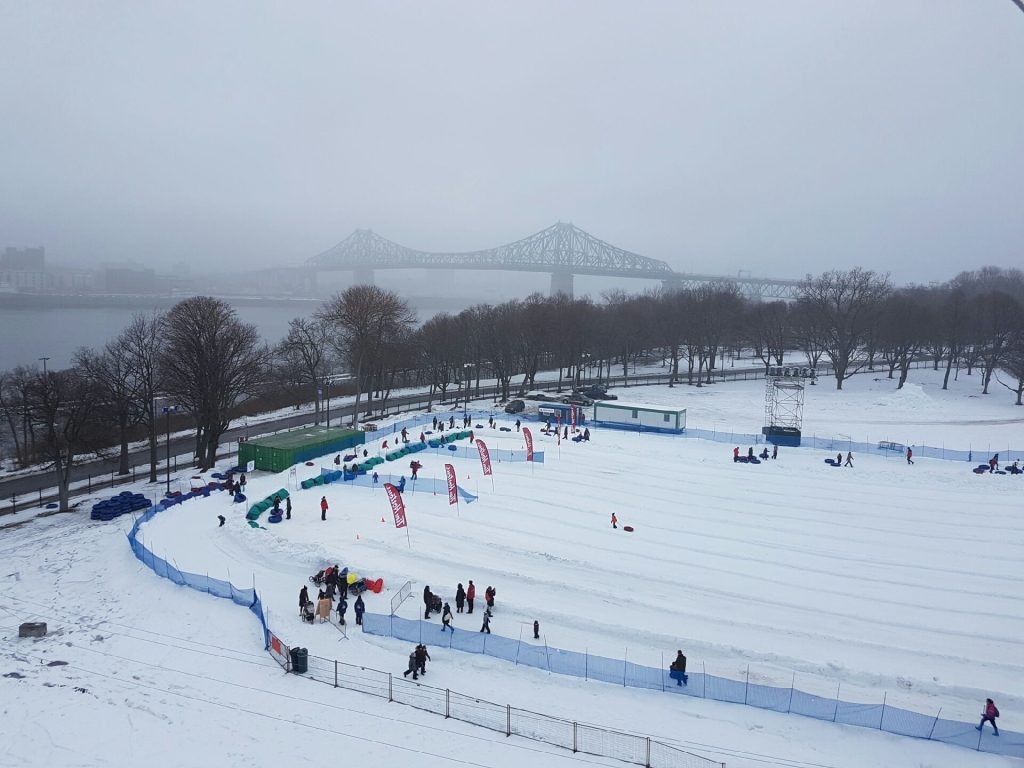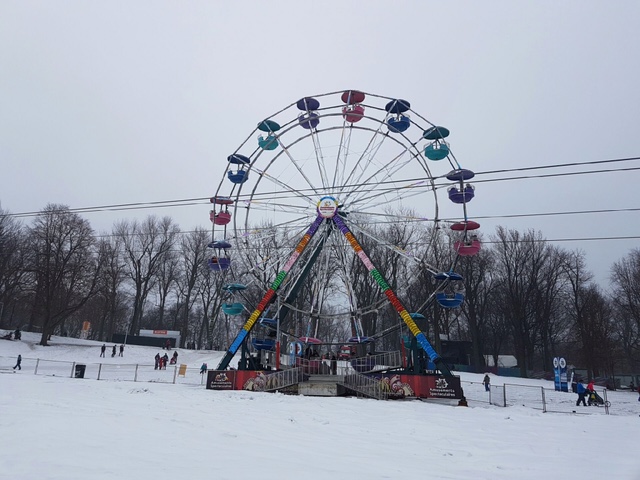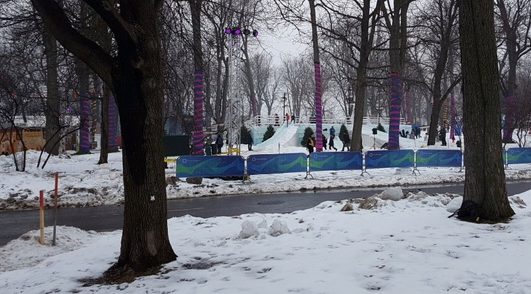 The food trucks and booths had a lot of food, coffee and sweets to eat, with picnic tables in a concentrated area to eat. I saw many families with picnic style lunches as well.
Between the tubing, the pirate ship made of ice, and the shows that caught our attention, we were kept busy for over 5 hours that day. We had an early morning start to drive to Montreal and if we hadn't, there's a chance we could have kept going. I imagine the area would be a lot of fun when lit up at night too!
There was a lot of laughing. That's what I'll remember about the day. It was really a fun time with so much to do!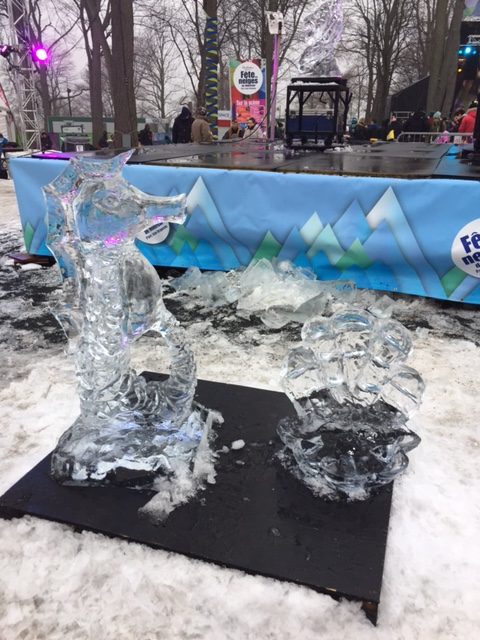 Here's what you need to know about Fête des neiges:
When is it?
The event runs every Saturday and Sunday until February 5.
How much does it cost?
The event is FREE, with only certain activities costing money. An ACCROPASSE can be purchased for $16 a person (children 4 and under are free) or $50 for a family of 4. This pass will get you unlimited access to the Ferris Wheel, Tubing, and Ziplining PLUS buying the pass once allows you unlimited access for every weekend of the event. That's a really affordable family day out, even more so when you go often.
Dog sledding, something we had never done before, is an additional cost. As part of our press package were were able to head out. It's a short trip, but a really neat way to take part in some Canadian tradition.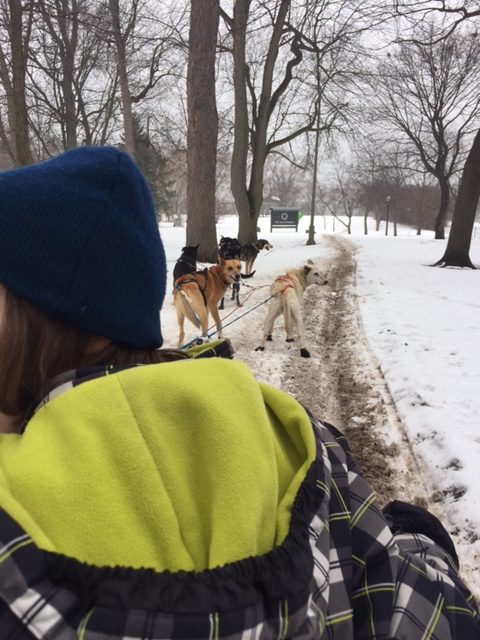 Food is available for purchase on site.
How far from Ottawa is the event?
It's just over two hours by car to get to Parc Jean Drapeau from Ottawa's East End. That means it CAN be done in a day. (We were offered to stay overnight which certainly made the visit more relaxing, but we could have hopped in the car and been home before dark if needed.)
What ages is this good for?
All ages. Absolutely. We all had so much fun. Little ones would find a lot of free activities to do. Teens will love the ziplining and tubing, WE loved the tubing the most, and the stage entertainment, including live music and ice carving, kept all of us enthralled.
The kids will also be thrilled when they see the giant ice pirate ship that they can go up and slide down!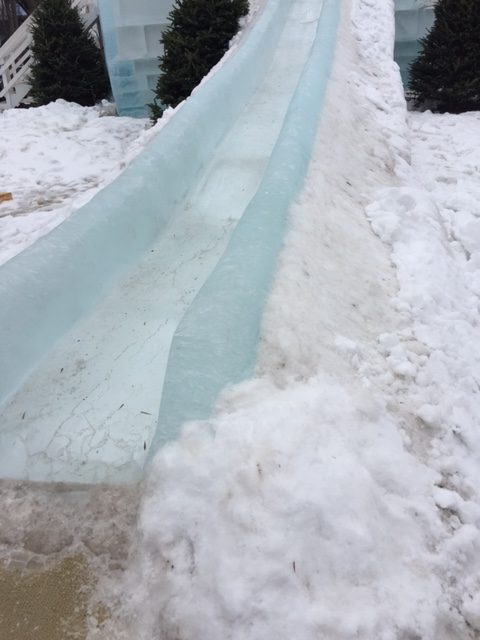 Notes:
We did see some strollers around the event, but given that the ground was fairly mushy from the mild temperatures, you may find it tricky to push it around. What I did see more of was little sleds that wee ones were being pulled around in across the snow covered areas.
There are warm up areas throughout and the main building offers a cafeteria and washrooms (in addition to the port-a-potties around the site) to take your breaks in.
Must do:
Other than all the activities? Be sure to splurge for a hot dog on a stick to roast at the fire and some maple taffy. There was just something about it that made us feel like we were truly Canadians in winter.
Also, if your kids are old enough we all agreed that the tubing was a must do!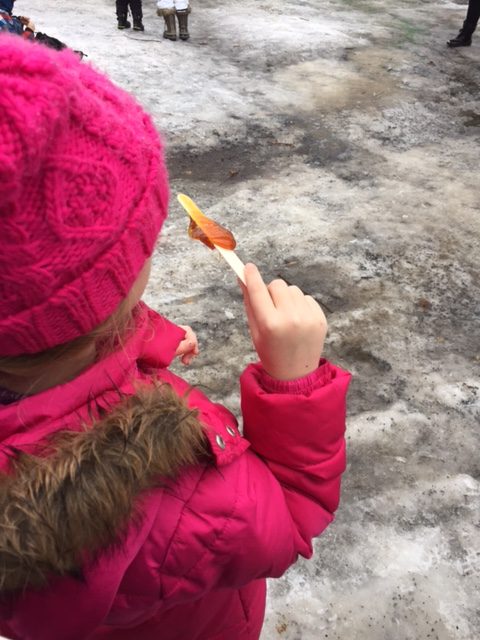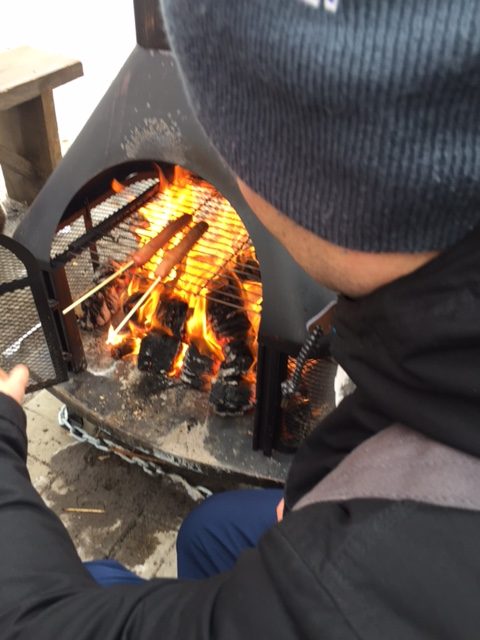 Tips:
Head there early. We got there pretty well just as the site opened up and it was great not to have to wait. By afternoon, the line ups for the most popular activities were definitely longer.
When you first arrive, plan to do the major activities, like tubing, first to avoid the long lines.
Each weekend has a different line up of events; check the website for specific times and details!
Bring a small backpack that you can stuff some water in, and some extra mitts and socks in, just in case!
We've already discussed plans for next year! For more details about Fête des neiges, visit the website. 
Disclosure: I was invited to participate in Fête des neiges as part of a press trip which included accommodations, food and travel costs. All opinions are my own (or that of my family!)