When we travel to Niagara, there is one spot we know for a fact that we want to go for supper at least once and that's The Market at the Village – Supper Market.
This place is beyond amazing (especially if you love delicious, local food and lots of options!). There are various places to eat (food trucks and stands with delicious fare like tacos, pulled pork sandwiches, nachos, and more – including vegan and gluten free options) plus, cold drinks. You can purchase beer and wine tickets (with plenty of local craft beer and some local wineries on site to choose from) or grab a cold soda, water or lemonade. The options seem endless.
The Market at the Village Supper Market is set just outside of Niagara on the Lake itself. There are many, many picnic tables set up and some have umbrellas for shade. Live music plays and while we missed it, there was going to be a bouncy castle for kids as the evening went one!
It's absolutely a place to take kids. You will find many toddlers happily walking around the grounds in between tables while they wait for their dinner and some will stop and dance to the music that is playing. Strollers can easily be pushed around as well. My kids love eating outside any chance they get, plus with the live music AND their choice of supper, it's a pretty great deal.
Speaking of deal, the cost is amazing. The four of us can easily eat for much less than if we were in a restaurant.
The biggest difficulty with the supper market is deciding what to eat, but this is also one of the most amazing selling features. With four of us, there is 100% going to be something we all want. On this trip, each of the kids opted for a pulled pork sandwich, I went with the tacos and Andy went to a different stand for a beef brisket sandwich. I could easily rave about every bite we had (yes, I tried them all!). The kids finished their meal with a fancy ice cream sundae!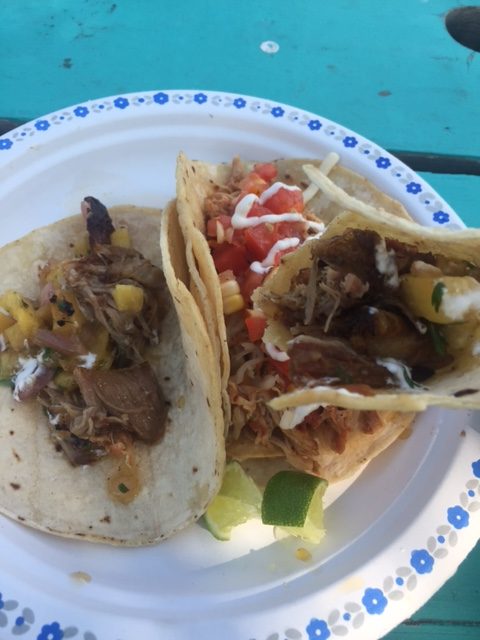 We love sitting in the shade and taking in the sights, sounds and tastes of the supper market. If you are in the Niagara area, mark this on your list of 'must do' items. You won't be disappointed. The only disappointment we have is that we don't live close enough to go all the time!
Details:
The Market at the Village – Wednesday Night from 4:30 pm until 9 pm until September 20, 2017.