Usually when I use peanut butter, I make a dessert. Or, in this house, it gets used up just by eating it plain. My kids have taken to eating PB and pretzels as an after school snack. But I love peanut butter in a savoury dish. Combine that with my desire to have easy meals ready to go and it's not a surprise that this peanut thai noodle salad was a huge winner in my books.
It's no secret that while I love cooking, my love for being in the kitchen and creating something new and tasty has to be on my own time. During the week, when we are rushed as a family and I can't decide what to make that is nutritious and fast, it feels more like pressure and takes the joy out of it. When I have time, it's a wonderful way to spend part of a day. When I don't, it feels like a chore. I think that's why I love having easy, go-to recipes that I can use any time during the week with limited ingredients. It's definitely one reason I have turned to Kraft Canada recipes for years and years. I can alter them to suit my tastes, and to use what I already have in the pantry or fridge.
This Peanut Thai Noodle Salad is a cold pasta salad (I love pasta salads!) and was the perfect weeknight no-meat dish. I think next time I make it, I will keep it in the fridge for a tasty lunch for myself during the week.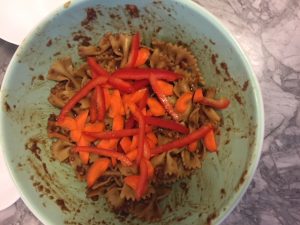 I used bow tie noodles because I love them but a tighter, more firm noodle (like the original recipe calls for) would hold its shape and sauce better. I also omitted the snap peas just because I didn't have any – that's the beauty of these recipes, I can easily change them up. The sweet red peppers were a perfect foil to the saltiness of the soy sauce and because I used Kraft All Natural Crunchy Peanut butter, the only added sugar was from the honey. I probably could have reduced the amount of soy sauce just a bit and still had the flavours I wanted with each bite.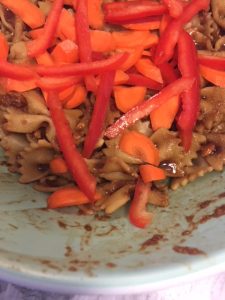 I think what I loved most about this dish was how easy it was to make. I can't wait to make it again.
For more Kraft Canada Peanut Butter recipes visit their website!
Do you like to use Peanut Butter in dinner dishes? 
This is post is written in partnership with Kraft Canada. I'm a What's Cooking contributor and receive compensation. All opinions are my own.