Tips for travelling to Melbourne, Florida as a Family
Recently, I spent 30 hours in Melbourne, Florida. I had the opportunity, along with some other writers, to explore the area in a condensed amount of time. Usually, as a family, we don't plan our travel to take place over such a short amount of time. But travelling with kids can feel like we are in fast forward mode, can't it? The whirlwind, the stress of making sure we don't forget to pack something, the reviewing of the timeline to make sure we know where everyone needs to be (before meltdowns set in) and so on and so on. That's why pre-planning trips as best we can often helps families from too many unexpected surprises and delays.
What was especially fun about going to Melbourne is that it was where I first went as a child on my very first trip to Florida with my own family. We went to Cocoa Beach, Port Canaveral and Ron Jon's Surf Shop. So I was thrilled to relive a few of these moments from my own childhood and think about how my kids would have loved to experience them too.
From this whirlwind trip I did take away many tips for fellow parents who may be planning a trip to Melbourne, Florida with their kids. Packing for beach vacations, flying with kids and exploring new areas isn't something new for my family, but sometimes, having the inside scoop before you go can help.
Fly in Comfort, and without the stress
Flying direct is always the preferred way to fly when I can (especially given how much trouble myself and the kids have with flying sometimes!) but it's not always available. That's why I love that Porter Airlines will soon be offering seasonal non-stop flights to Orlando-Melbourne International Airport (beginning in December) from Ottawa, Windsor and Toronto. Flying into Melbourne was extremely comfortable (if you've flown with Porter before, you know this is not a surprise) and the airport itself was easy to navigate. When you land with tired children and an arm full of stuffed animals, luggage and whatever other items you've had to bring along, convenience, comfort and ease are all important when arriving at your destination.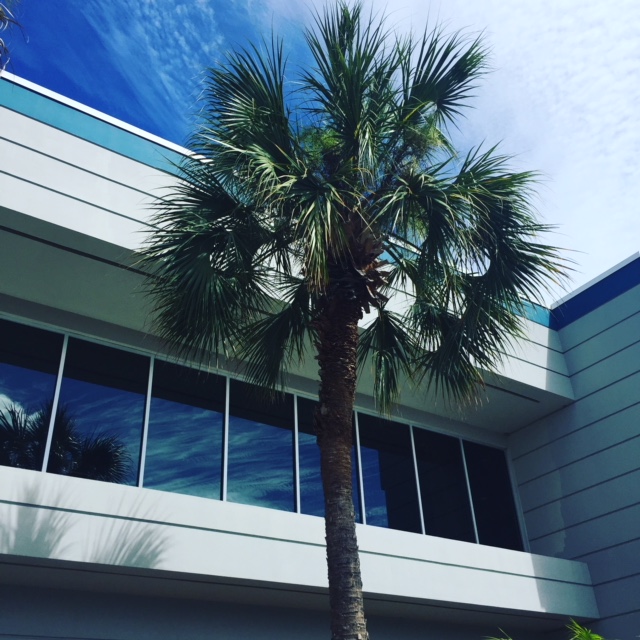 Stay on the beach, and rent a car
I suspect there are a few different, popular types of vacations that families take when they travel to Florida. Two that I am most familiar with are the theme park vacation (with special trips to Walt Disney World or Universal) and the beach trip. We've done both and love both, but have always made these separate trips. One thing that is especially enticing about Melbourne is you can do both on the same trip.
We were about an hour away from Disney which meant we were able to drive and visit Disney for a brief time. This was of course exciting for me (as you know how much I love Disney). Having this as an option opens up a new set of possibilities for your vacation planning. If you want to stay at the beach, but drive to Disney for some pixie dust and magic, the option is there.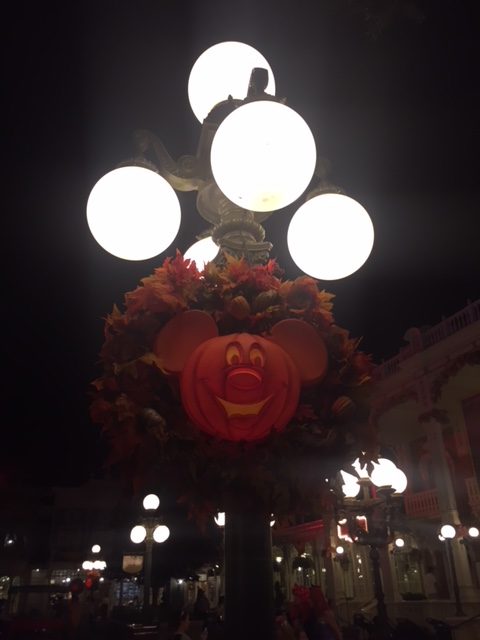 Rent a car, and you'll be able to explore everywhere you need to go, which brings me to my next point…
Explore and learn something new
You can get the kids excited about space travel by bringing them to Port Canaveral, The Kennedy Space Centre and Exploration Tower. The Space Coast offers plenty of stops where your family can learn, be adventurous and try something new, like surf lessons! Depending on the age of your kids and their interests, I have no doubt you'll find something everyone loves.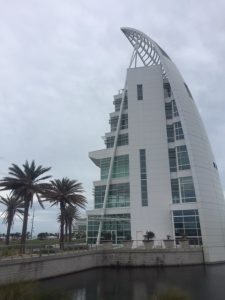 Discover the Natural Space Around You
I love going to Florida and seeing new wildlife. We are always on the lookout for fish, dolphins, manatees, and ocean birds. It's always so special to see a dolphin fin in the water (like when I was kayaking at Sebastian Inlet). These moments are impossible to describe, and so rewarding. I know how much my own kids love experiencing these sightings too. When you travel to the Space Coast, you'll have the opportunity to kayak, take hikes and explore natural areas.
Planning a Trip?
There is plenty to discover in this area if you are planning a trip this coming winter.
Head to the Visit Space Coast website for details about what the area has to offer and look at what Porter Airlines (and their vacation planning site Porter Escapes) has available as well.
Hopefully these tips will help you plan your own trip to Florida's Space Coast. Your trip won't be the rush that mine was, but if I managed to fit in so much with my colleagues, think about all the adventures that your family can have in this area.
__________________
Disclosure: I was invited on the press trip to explore Melbourne, Florida by Porter Airlines and the Melbourne-Orlando International Airport. Costs, accommodations, food and my flights were paid food, however, all opinions are my own and based on my own experience. These tips are for planning purposes only and everyone's experiences may vary. I'm sharing this post because anytime I can encourage family travel, I am more than happy to do so! Travelling without the kids was pretty great, but I did miss them on my adventures!
PIN