Shenkman Arts Centre is a blog advertiser. 
Have you read the popular bedtime book "Guess How Much I love You?" to the kids? I have. We have the board book, of course.
It seems like ages ago now that we would cuddle up in pjs to read it. That's one thing with the kids getting older, those short, sweet books that were read and re-read are tucked on the shelf. It stays there, and gets pulled out every so often for wee guests that we have, or just because my daughter enjoys going through the old books. It will always be on our shelf, until it's on one of my own children's shelves, in their own homes I suspect. It really is a lovely book.
Here's our copy: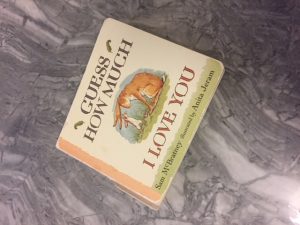 Mark your Calendars for November 25!
If you have little ones, and are still snuggling up on the couch or before bed to read Guess How Much I Love you and I Love My Little Storybook, you'll be happy to know that there is a puppet performance coming to Shenkman Arts Centre!
Told through puppetry, with music, and presented by the Mermaid Theatre of Nova Scotia, this family friendly performance (recommended for ages 4-8) is actually two shows in one! It takes place on November 25 at 4 pm and is about 60 minutes long, plus there's a Q and A!
Watch the Show, Stay for Pizza
As an added bonus, there is a pizza party planned after the performance! For $5 extra a ticket, you don't have to rush home for supper. You can stick around and grab a slice of pizza, some salad, cupcake and drink. What a fun family event! Please note, pizza orders must be placed by calling 613-580-2787 before November 22.
Visit the website for a video preview of what the show has to offer, to purchase your tickets and to find out more about this fun event!
Heads up! It's also the popular Baz'Art Holiday Market at Shenkman that day. Come early to shop before the show!
disclosure: Shenkman Arts Centre is a blog advertiser. All opinions are my own.