I have joked that my son needs an advent calendar for his advent calendar. He is so excited for December 1. And I don't blame him. The beginning of December marks a turn for all of us. Not only can we open up our advent calendars (and I have a few on the go this year) but it begins a month filled with tradition, family, fun and of course magic.
This is one reason why I love continuing with our activity calendar. This tradition began years ago after I read about the idea from a fellow Ottawa blogger (Miss Fish!) when my children were little and I keep it up each year. It helps guide us and ground us during an already busy season.
Last year, I shared some tricks when it comes to the calendar that has helped me, so I'll repeat those here:
a) Don't put dates on the activities. You may need to switch them up once and a while if something changes, illness hits etc.
b) Stock up on the stuff you need for each activities like hot chocolate or craft supplies.
c) Check your family calendar and add in activities to the 25 Days countdown list that you already know you'll be doing – like Santa letters or a family visit. This list is also created in close consultation with my calendar  based on days of the week– some activities can't be done easily on a weekday so I made sure they were on the weekend.
What's most important about this calendar isn't that you put too much effort into crafting the perfect activity, it's that as a family you come together and take a few moments each day to celebrate and spend time doing something together that is festive, fun and family oriented. That's probably why I love it so much.
As with other years, this is the little holder we have but in the past we've done envelopes, little clothes pins etc.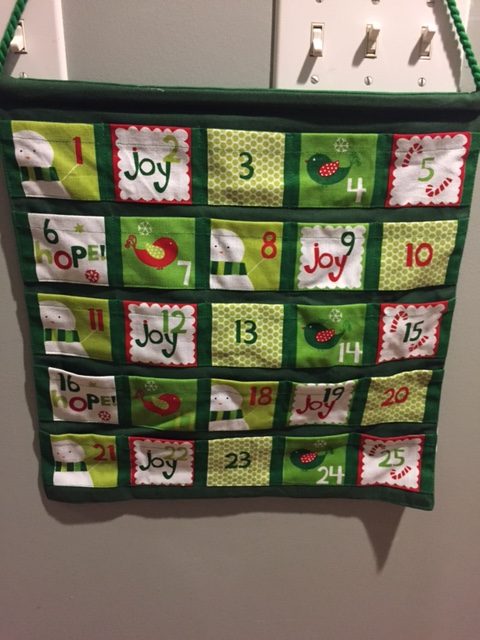 Each year, the list has grown with my kids, so some activities have changed (and of course, our list is personalized to our local activities). You can easily find your local events to swap in. For previous lists click here.
Our family's 2017 Advent Activity Calendar! 
1. Write and mail letters to Santa.
2. Go get the Christmas Tree!
3. Family trip to Chateau Montebello
4. Decorate the Christmas Tree!
5. Sing Jingle Bells
6. Make paper snowflakes and decorate the windows
7. Play a Christmas scavenger hunt and find a special surprise. (readers – this is often their Christmas PJs!)
8. Go to the Cumberland Heritage Museum Village of Lights
9.Sing Frosty the Snowman
10. Make Hot Chocolate and listen to Christmas carols.
11. Make a ginger bread house!
12. Dessert for supper, supper for dessert!
13. Buy and Bring toys to Toy Mountain
14. Make a list of ten things we are thankful for. Hang it where you can see it every day.
15. Go for a drive to see Christmas lights (Taffy Lane!)
16. Decorate Christmas cookies!
17. Christmas PJ party! Stay in your pjs all day, watch Christmas shows, read Christmas stories and snuggle!
18. Deliver food to the local food bank collection.
19. Sing We Wish You a Merry Christmas!
20. Make a holiday ornament
21. Bring in snow and make maple taffy!
22. Go to Wesley Clover Parks Magic Of lights
23. Bake Christmas cookies and deliver some to your friends and family
24. Unwrap one present (mommy and daddy get to pick which one)
25.  It's Christmas Day. Remember you have a family who loves you. And that's the most important gift of all.