This family show coming to Centrepointe Theatres on January 6 is sure to please
My friends at Centrepointe Theatre are welcoming families on January 6 to the Al Simmons show for some laughter and fun. This might be the perfect way to end your Christmas vacation in Ottawa together before the kids head back to school.
"Juno award-winning children's musician, kooky comic, mad inventor and all-round wacky performer, Al Simmons entertains and enthralls. Known for his eccentric props and costumes, this Vaudevillian show thrills fans of all ages." – Centrepointe Theatres
You can find details on the Centrepointe Theatres website and purchase your tickets. If grandma or grandpa are still looking for family gift ideas, this might be the experience for all of you to find under the tree!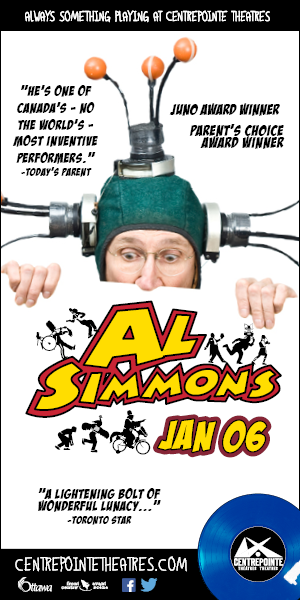 Have fun!
Centrepointe Theatres is a blog advertiser