The Academy for Musical Theatre is a blog advertiser. 
If your child has an interest in the stage, acting, music, dancing, performing and playing pretend, you'll be happy to hear about The Academy for Musical Theatre and their upcoming camp theatre workshops.
Has the musical made a comeback in your home? Or maybe it next went away. Disney movies are traditionally filled with stories and plot that are narrated with song. And I know many have fallen in love with  The Greatest Showman, but there is something about a musical on stage that gives me a completely different feeling.
The Academy for Musical Theatre continues to expand their offerings in Ottawa, with  workshops in the summer plus after school programs in the fall and spring.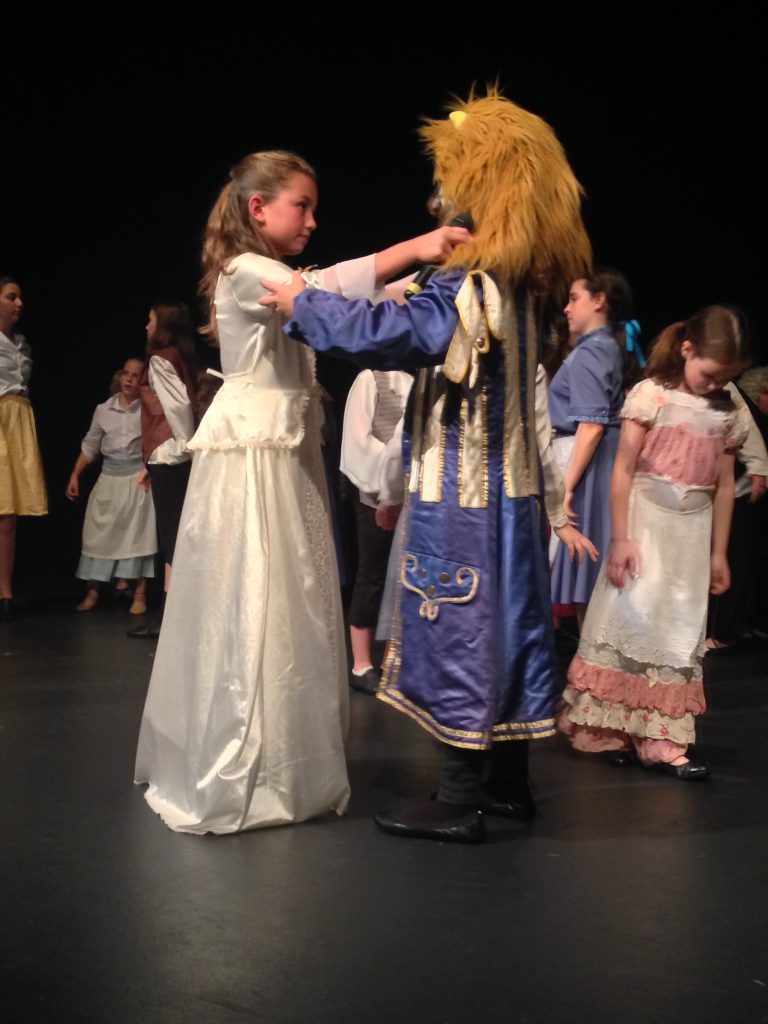 The Academy for Musical Theatre welcomes everyone to a fun training environment where novices and those wanting to dive deeper into musical stage shows can really get a handle for things. The camps and workshops welcome kids aged 6-17.
I love the variety of offerings in Ottawa (the workshops take place at the Gladstone Theatre, even though The Academy for Musical Theatre is headquartered in Perth) including The Lion King, Mary Poppins and 100 Years of Broadway.
Ottawa area students can spend part of their summer, for a week or two depending on the performance, immersed in musical theatre. From scripts, to practice and a final performance at the end of the workshop, the kids will have the entire experience.
While some workshops have already sold out, you'll be happy to know that a few major opportunities to participate remain. Be sure to keep an eye out for the details about the length of the workshop (some are 2 weeks) and the specific dates each are being offered. With some sell outs already, I won't be surprised if other sessions do as well so if you think your child is interested it might be time to register them!
Here's a bit more information about The Academy for Musical Theatre that they sent me to give you an idea of their history and philosophy:
The Academy for Musical Theatre (formerly "Perth Academy of Musical Theatre"), founded in 1998 in Perth, Ontario, Canada, provides high quality instruction in music, acting, dance and
various aspects of technical theatre to youths of all ages, culminating in the performance of a
full-scale Broadway musical.

The Academy is a very special and unique community of non-judgmental and spirited
individuals with positive attitudes, devoted to providing a fun and safe environment for us to
experiment artistically without fear of negative feedback. Our primary mandate is to build
confidence.

After 18 years of running a successful business in Perth, and seeing over 3,000 students
develop their theatrical skills, as well as their confidence, we decided to share our company with a larger community, and in 2014 began offering programs in Ottawa, primarily at the Gladstone Theatre. In this, our 20th anniversary summer season, we are offering six musical theatre peformance workshops, including Mary Poppins,HMS Pinafore, The Lion King, and Jesus Christ Superstar.

-The Academy for Musical Theatre
Ready to register your child?
Visit their website for details about what show workshop is being offered each week and reserve their space!
Break a leg!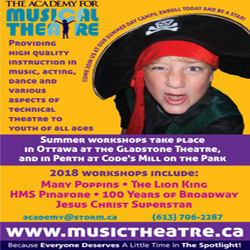 The Academy for Musical Theatre is a blog advertiser. All opinions are my own.