Subtitled: How to camp for the non-camper
On the first of July, our family did something we haven't done before. We spent the night in the woods. Sure, it was a rather controlled setting and it's not as though we were going to run out of food and water – but this was an adventure for all of us.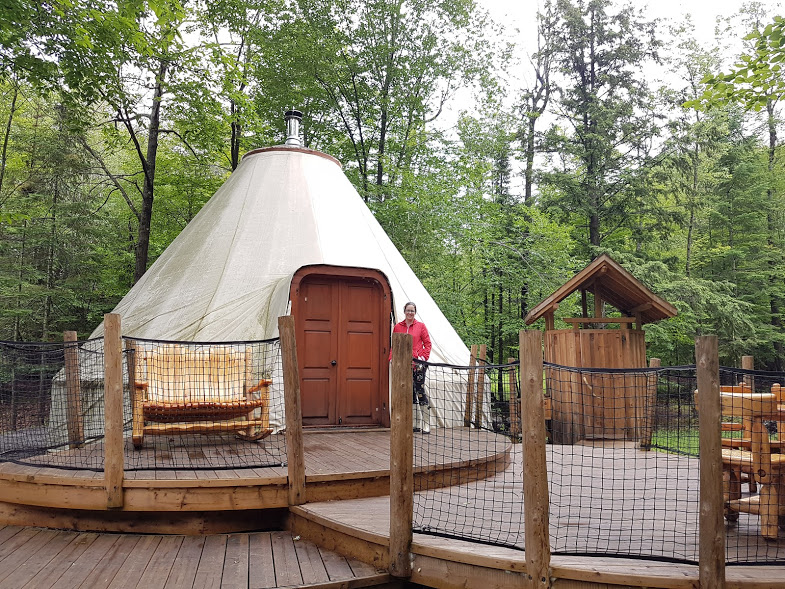 Parc Omega invited us to spend the night in one of their lodgings. Did you know they had lodgings? When I told people we would be doing this, many were surprised (and delighted) to hear that there are cabins, tents and tipis to stay in.
We were hosted in the Wi-Tent, which is set up like a yurt. The campsite is near the main entrance to Parc Omega (although park admission is separate from your accommodation fee, those who stay at the lodging receive a discount for Parc Omega tickets).
When you first enter the lodge area, you check in. You have the option to get someone to help drive your items to the site, or to use a cart instead. We were only staying one night, and between the four of us we were able to walk in with our bags. At check-in, we were informed about where we would be staying and shown a map directing us to the camper showers and washrooms, if we needed them. There was also an explanation on how the set-up worked. In our package we received bedding. However, if you opted out of the bedding package, you would just bring your own.
We purchased some firewood (we were determined to make s'mores!) and then we were on our way! We were so excited to get to our tent. We parked at the accommodation lot near our tent area and walked through the woods to discover that we definitely wouldn't be camping in a traditional sense.
We loved how the tent was set up. It was very clean and dry (after days and days of rain, including the day we were there, we weren't sure what to expect) and there were two doors – the main door, plus an interior screen door which was nice if you wanted to leave it open to let a breeze in. While our temperatures were on the cooler side for the first of July, it's a great way to keep things cool inside the the tent.
Parents, you'll be happy to know that there are interior locks on the doors, including a high-up, hard to reach (and harder to open) lock. It meant that while we slept at night, we all felt secure. If you have kids who tend to explore, the locks are a nice touch.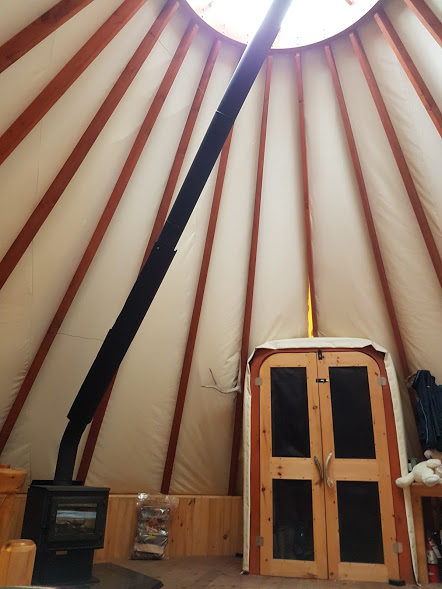 The tent has a wood stove inside, which a family across the way was using. It was tempting given the dampness outside from the rain, but it wasn't cool enough to worry about warming the interior. There is also a water jug for drinking water provided. You can find all of the inclusions on the accommodation website.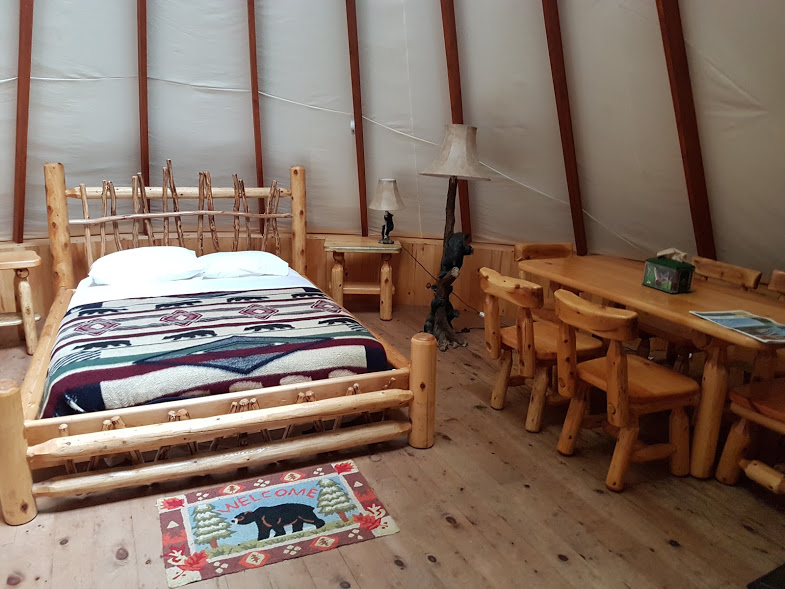 Now, one of my biggest questions was about the toilet. We could drive to the main camper area to use the toilets, but that's not the most convenient option. Instead, what we discovered was our campsite had a dry toilet. It looked like a regular bathroom in many ways, but there was sawdust to put in the bowl after each use. It was fascinating and seemed to work well! Again, we were there one night – it wasn't a stretch to make this work (although, for non-campers, we really weren't sure at first!)
The campsite itself was situated around a small pond, with lots of trees and two other Wi-Tents nearby (but not close enough that you didn't feel comfortable in your own space).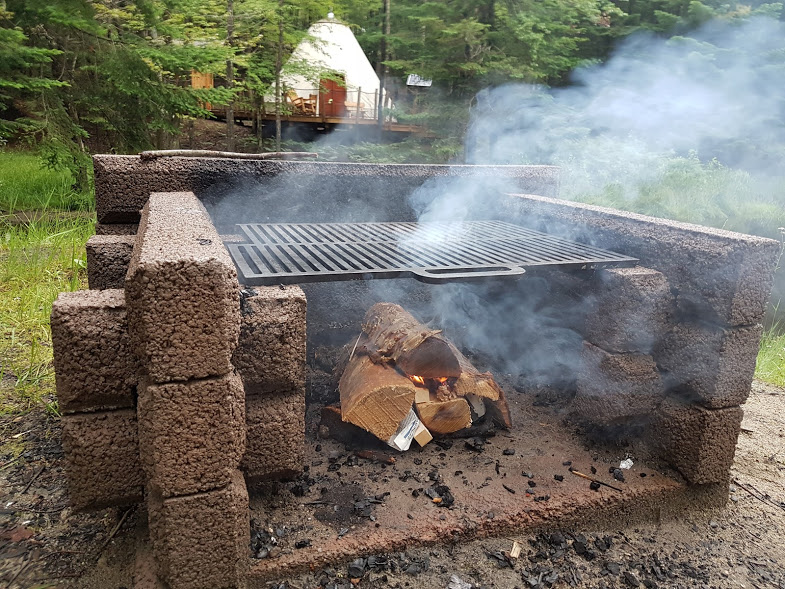 There is also a fire pit that has a grill top. Firewood can be purchased (which we did) and they provided newspaper to help get it going. One of the reasons that we wanted a fire, other than s'mores, was to make coffee. It worked! I had a kettle for the grill and used instant coffee.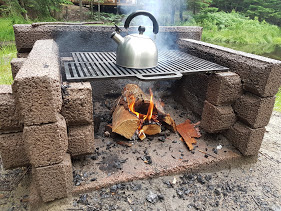 We brought our own snacks (instant oatmeal for the morning for example) and while we ate at the Cafe at Parc Omega before we checked in (mostly because the rain was threatening our fire plans) we definitely would plan to cook supper on the fire the next time we go.
One of the highlights of the accommodations at Parc Omega is the private wolf and bear boardwalk that is only accessible to those in the lodgings. We had a really close look at the wolves and bears and enjoyed a nice walk along the boardwalk. We also could hear the wolves howling at night and in the morning. That was a magnificent sound (it didn't hurt to know that we were safely tucked away from them and that they weren't on the loose!)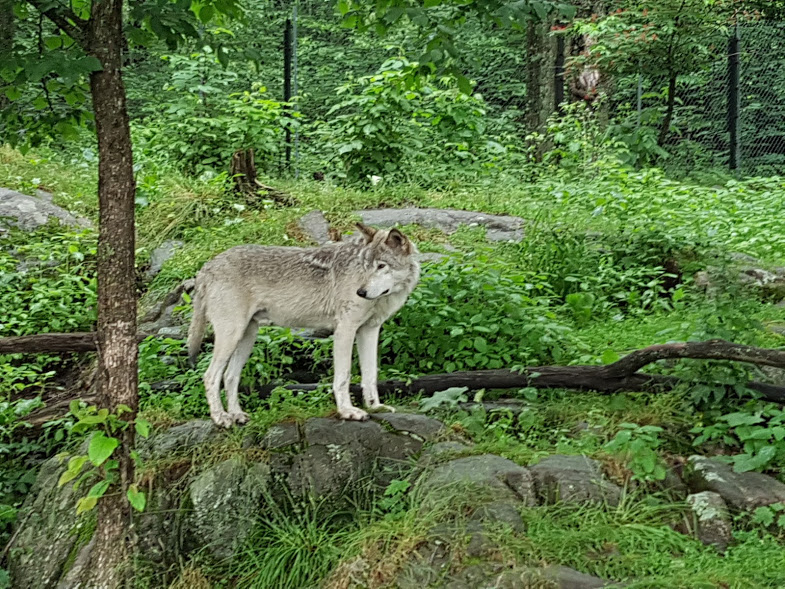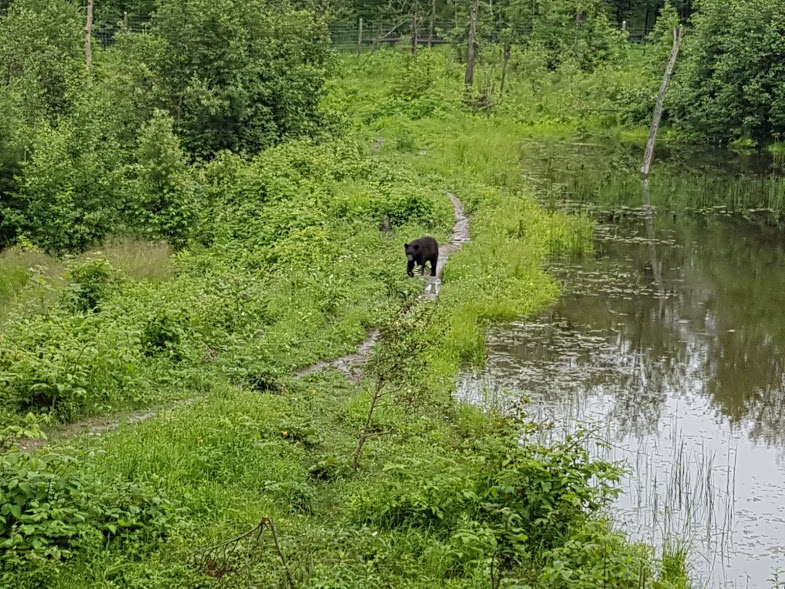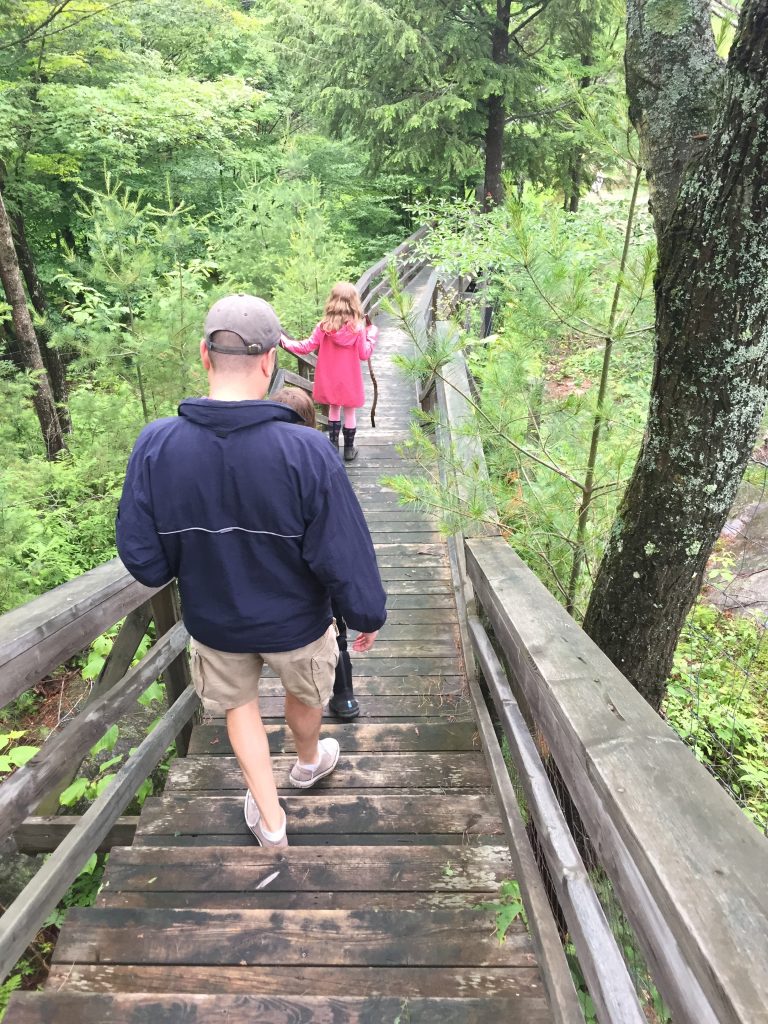 It heaved rain when we went into the tent to get ready for bed, and the thunder was booming. At first, the kids didn't think they would be able to sleep, but that didn't last long. We were tucked comfortably into our beds in the tent and they slept soundly. When everyone was asleep, I kept the lamp on (there are solar powered plug-in lamps!) for a couple hours while listening to the storm and reading a book. It was amazing.
We had such a great time at Parc Omega and the opportunity to spend the night is one that we won't soon forget. As non-campers, we all agreed that this was something we'd love to do again. It was the perfect way for us to spend a night in the wilderness without the worry or investment of equipment that we otherwise would have had to do.
A few notes before you plan your trip:
Parc Omega lodging is available between May and October and there are various lodging options.
We stayed in the Wi-Tent.
Parc Omega tickets are discounted for those who stay overnight.
Bookings can be made online.
Thank you Parc Omega for inviting us to stay! We loved every minute of it!
We were hosted by Parc Omega for free but all opinions and experiences are my own.