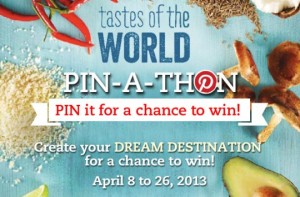 Once again, our friends at Sobeys is having a Pinathon and you have a chance to win!
Are you on Pinterest? All you have to do is set up your Dream Destinations board and  and repin at least 4 pins from the Sobeys board – featuring tastes from around the world. Will you choose one country to focus on like I am? A world-wide dinner selection? Just be sure to tag #lovesobeys in the description of the pin!  You'll then have a chance to win one of 12 $100 Sobeys Gift Cards.  Full details can be found on the Sobeys site.
I've set up my Pinterest Board and am featuring tastes from India. I love the complexity of Indian cooking – the flavours always have so many layers.  I even made naan bread from scratch a few weeks ago!
Once you've set up your board, head over to this Sobey's blog post about the Tastes of the World Pinathon and add your board link.  Be inspiring! Be Creative! But BE SURE to add your board to that blog post to be entered.
Good luck!
Disclosure: I'm a Sobeys Better Food Blogger and as such receive perks and compensation for promoting this post. However, I'm also a customer by choice so promoting tasty food ideas is pretty easy 😉