On Thursday until Saturday I attended Blissdom Canada – a conference to discuss social media, public relations, blogging and online engagement.
I feel like I am still processing everything, but WOW I had such a great time.  It was likely the combination of learning (which I love to do) and seeing/connecting with so many people that I don't get to hang with every day (and some that I get to see more often but was able to have a blast with – Ottawa peeps I'm looking at you!).
I've decided to write out short lists to summarize the ocean of thoughts I have about the past couple of days in my head.   There's just so much swimming around up there, I need to get it down and break it apart.
My favourite parts (and the stuff they can't accurately describe on the website)
Meeting people that I have spoken with online for years, but don't live near me.   There were hugs (some awkward) and laughing and awesomeness.
Seeing people that I don't get to see nearly enough.  Sometimes it seems like Toronto and the surrounding area is so close.  Then I remember how far it is because so many people I love to be with are there.
Ottawa represents – we are a fun crowd.  Can I say that? Ottawa is special. Seriously, yes, I'm bragging, but we are our own community.  It's an inclusive group and we support each other.  Love it.
I got to dress up! Ok, that's not what it's all about, but I don't get to do it often and it was fun.
I am surrounded by talented and supportive people.  How many times did I get to congratulate talented women this weekend on their new/continuing ventures? How many did I get to listen to talk about their strengths and share their goals and tips.  Countless.  I felt loved all weekend.
Secret: All that chatting and meeting with people and mingling is stressful for me.  No, really it is.  It exhausts me. I do it because it's rewarding – people are fun and I really have fun! But my anxieties leave me feeling silly sometimes or thinking I sounded like a dork (and yes, sometimes I did ha!).  And yet, I NEVER once felt judged.  Or unwelcome.  Or foolish.  I felt like I was with my people. And it was during the opening remarks that I realized that.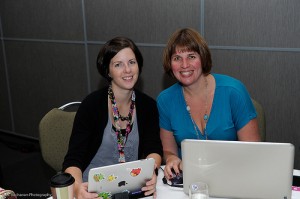 (
Sara
and I: photo by
CL Buchanan Photography
)
What I learned: From Panels to Conversations – Taking it back to the blog
I want to improve my writing, but do to that I need to keep finding my voice.  But to do that, I have to be less guarded.  No matter what though, I get to decide where to go with it (and I like that!)
I love doing what I'm doing – blogging, sharing, connecting.  It's a perfect fit for me.
I write about community giving and even if my blog is small, I think my online voice has a way to help.
I love helping others – other bloggers, small business owners.  Even if it's just sharing an idea or offer small piece of 'how to' help, I really want to continue to do that.
My blog is my business.  The minute I decided to monetize I had to start treating it like that.   I Have to get my admin in even better order.
I don't need to work with brands to be a good blogger.  I will remain selective of those I work with.
I love Bit of Foodsense and it needs some more attention – which I am going to give it.
What's Next?
More blogging on Bit of Foodsense.
Better time management for Bit of Momsense so I can focus only on great content – and those brands/advertisers I work with that are the best fit for me and my readers.
Make more time to connect with people.  I've been able to do it more in Ottawa, but now I want to see all those awesome Toronto area people more!
Learn to write better.  Chip away at some of the walls I put up, the lack of confidence and work to improve my writing.
Areas I'd love to see focused on next year:
Focus on Social Media and small business/entrepreneurs
The business of blogging – the conversation about monetization has been open, but if we are going to monetize, it becomes a business.  What does that mean? What's different?
How small blogs make a difference, are of value and have their own niche.  Stats are important and tell a story but they aren't everything.
More time for connecting outside of sessions – this may be impossible but there's so much value in it!
ETA (just thought of this): Community Management and jobs/careers IN/about Social media
Conferences like these are incredible work to put together, and I can't thank the organizers enough for hosting a wonderful weekend.   This was my first time and I loved it.  Meeting everyone and participating was valuable for not only my blog but more importantly for me.
If you were at Blissdom and I didn't get to meet you, I'm sorry.  And I mean that because as I had suggested to others, I wish there was a way to meet every participant in a reception line (or speed dating way as someone said) just to be able to put names and faces together.  The smiles of so many lovely people warmed my heart and lifted me in ways that can't be explained.
Lastly, I ate supper at a place with sushi on mini boats that floated around where we sat and I could grab sushi off the boats.   Sure, maybe it was the company that made this a hilarious and fun time, but it was pretty awesome. 🙂
Thanks for the memories and motivation Blissdom Canada!