So I was hesitant to sign up for Pinterest (I mean, let's be honest, I spend enough time on other sites) but I finally jumped in and now, after drinking the Pinterest water, I'm hooked.
It's partially because of all of the house renovation talk that it has me captivated – the ideas and pretty things on the site are inspiring, motivating and beautiful.  It's partly because there's just neat stuff to be found.
In December, Heather from Smart Space Organizing posted about organizing your linen closet by putting all matching linens in a single pillow case.  Love it! But it was a busy December and my linen closet was the least of my worries.
Then, while browsing Pinterest, I saw the recommendation again (from Martha Stewart of course!).  This weekend I decided to tackle the linen closet and amaze Andy with beautiful and smart organization by putting all matching sheet sets into a pillow case.
Read Heather's article for details and here's the picture that inspired me on Pinterest: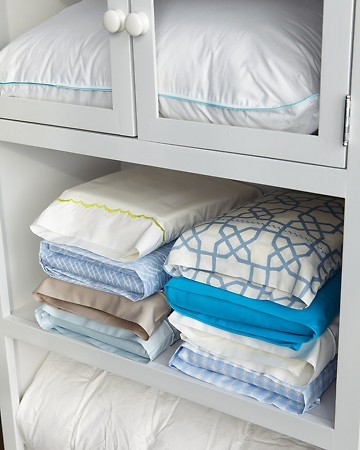 And here is my finished closet!!  Identical right? 😉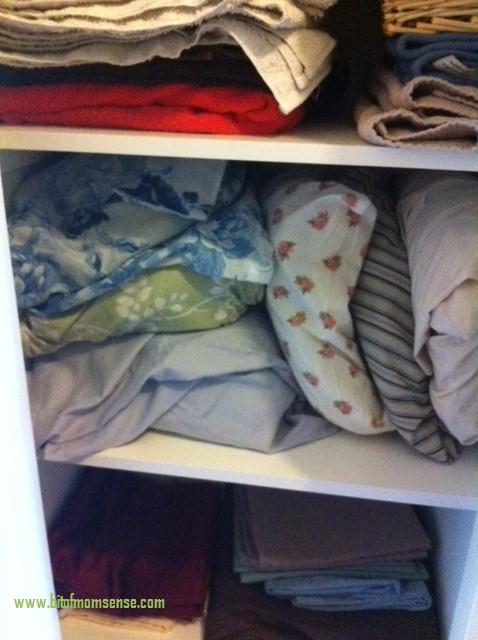 Now, in all seriousness, this really works well.  We know to grab the pillow case and all the bedding is inside.  But I'm not very good at making it look pretty I guess.  I am still happy with it! HA!  I couldn't stop laughing while I was doing it.
Check out this hilarious site for other people in my predicament.  You know I nailed it.
Eventually maybe I'll share a Pinterest idea that works for me – have similar stories? Or successes? Please share in the comments!