We are continuing vacation preparation.  We are lucky enough to be test driving a Ford Flex for the duration of our drive.  I'm looking forward to checking it out for the trip.  I love our van, but our van is getting older so it will be interesting to compare the two.  My biggest need in a car? Comfort on the long drive and space for everything (and everyone).
I feel we are finally at a point in our travel/parent lives where we don't end up packing half of the house when we hit the road.  When we went on road trips with the kids as babies, there were play pens, exersaucers, booster seats, diapers, toys and more that came with us.
Now for our trip out East we are mostly packing clothes (which I keep saying I will NOT bring as many as I did last year), some books and videos, sports stuff (baseball gloves, soccer ball), beach toys, beach wear and some food.
I am rather convinced that I can get all of the clothing for the 4 of us in one suitcase.  You read that right (I'll try and take a picture and post on my Facebook page if we do it!).  We do have laundry at the cottage.
I over packed last year and found that I didn't wear 2/3 of the clothes I brought.  I need my swimsuit, a cover up for beach days, and a few shorts/shirts for when we were in town. The kids need swim suits and a few changes of clothes and ditto for Andy.  We aren't going to fancy restaurants and even though we'll each bring a pair of pants and a sweater, we don't need oodles of them.
What's frustrating is we can't pack too early.  It never works well.  There's always the last minute rush no matter what I do.  I'm better off finishing laundry on Wednesday/Thursday and packing then.  Then, Andy – the super packer – will magically make everything fit.  Seriously, it's a miracle.
Despite my loathing, we are beyond excited to be going.  We are really ready for a vacation with just the four of us!
Meanwhile, I'm trying to keep the house tidy and the kids busy/happy while crossing items off our list.  Here's where my plug comes in 😉  Disney Junior is having marathons each morning of the shows our kids love to watch.  We are huge fans of their programming (Doc McStuffins and Jake and the Neverland Pirates are pretty popular right now) plus there are movies happening all summer long on Monday nights.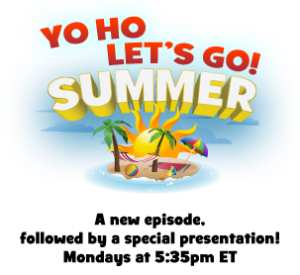 We PVRed a Tinkerbell one last week that was a huge hit!  So while I'm packing, the kids are playing, running around or enjoying some quiet time.  I can just pop on a PVRed show and try to keep them out of the clean clothes.
It will all get done eventually.  And hopefully I won't forget anything!
Disclosure:  I'm part of the Disney Junior Mom program and I receive special perks as part of my affiliation with this group. Although, Disney Junior isn't actually *packing* my clothes or doing my laundry.  That would really be a perk!  At least they are helping keep the kids busy 😉 The opinions on this blog are my own.