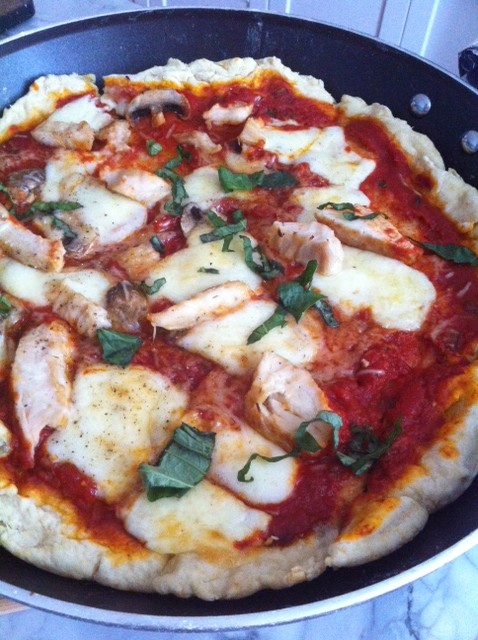 After watching Jamie Oliver make a delicious looking pizza on his 30 minute meals show, we knew we just had to try it.  Not only did he make the dough from scratch quickly, but the pizza looked delicious.
I set out to replicate it as best I can – I played with the proportions of water to flour a bit, and made my own self rising flour by adding baking powder.  The first try the dough was like a rock, so I scrapped it to try again, knowing I could do better – the second time it worked out wonderfully.
To bake the pizza, it starts in a skillet to crisp the bottom then moves to the oven to cook the toppings and the dough the rest of the way through.  Meanwhile, I made mini ones for the kids to do their own toppings and baked those on a stone.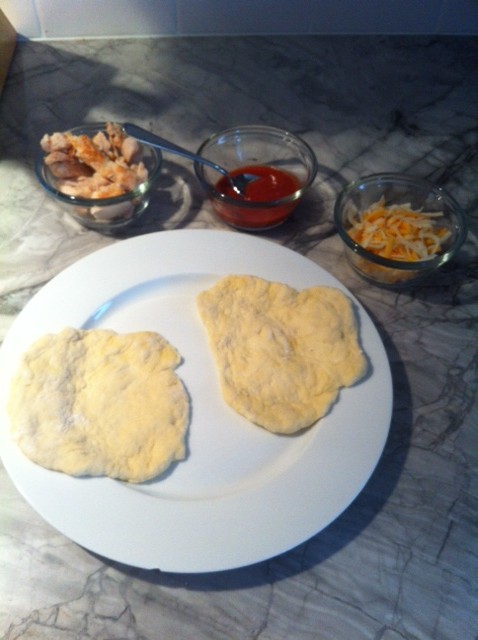 We will definitely be making this again!
Ingredients:
1 1/2 cups flour
3 teaspoons baking powder
pinch of salt
splash of olive oil (was about a tbsp or so.)
For the sauce (I followed Jamie Oliver's recipe):
1.5 cups crushed tomatoes
1 garlic clove
few pieces of basil
splash of red wine vinegar
pepper
Directions:
Mix the dough either with a wooden spoon handle or in a mixer until it pulls together. It will be a little sticky, but manageable with some elasticity.
Roll it out and fold into a skillet with olive oil on the bottom, about 12 inches around.
Place on low-med heat to crisp the bottom.
Top the pizza with sauce and choice of toppings.  I used chopped, roasted red peppers, mozzarella, parmesan, chicken and mushrooms.
Once the bottom of the pizza seems to be crispy, transfer to the over at 375 degrees until bubbly and browning and cooked through. Top with chopped, fresh basil and a drizzle of olive oil.
Enjoy!