Happy first day of summer!
To celebrate, I'm adding a recipe to the blog that isn't kid-friendly. I know, shocking. But it's summer, and this blog is just as much about parents as it is about kids so my gift to you, fellow parents, as we approach busy summer holidays, is my sangria recipe.
It's easy, it's basic, and frankly I like it because it uses things I already have in the house.  The basic idea for the recipe: You need wine, maybe some other booze, fruit, water, something sweet.  It's a rather flexible, and forgiving, recipe.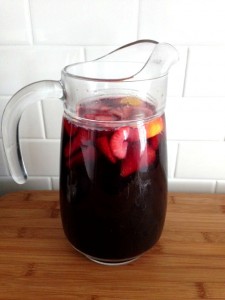 To make Red Wine Sangria
Combine the following ingredients in a large pitcher (best if it's resealable):
1 bottle of red wine
3 cups soda water (I use our Soda Stream water!)
1/2 – 1 cup of vodka (depends on how tough the week has been I suppose. And yes, you can omit this!)
In a microwavable or on the stove top, make a simple syrup by combining 1/2 cup of water and 1/4 cup of sugar.  Heat until sugar has completely mixed with the water.  Add to the mix.  If it's not sweet enough (I tend to like mine less sweet) add more simple syrup.
Add about 1 cup of sliced fruit – lemons, berries, oranges etc. Top the container with ice.
Let rest. Overnight is best, but a few hours is fine if you are impatient.  The soda water will loose fizziness the longer it sits or if it's not well sealed so too each glass with a bit more as you serve it. As my friend Candace says, you have to let it mellow!
Serve over ice and enjoy!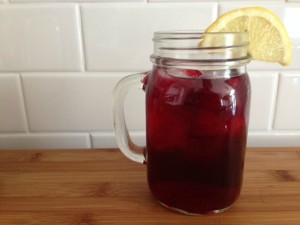 Tip: Prefer white wine? No problem, follow the same steps. I find citrus (oranges and lemons) go best with white wine. At the cottage I often add orange juice for some sweetness instead of the simple syrup too.  The point? Mix it up however you want!