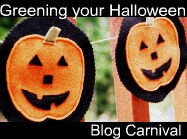 Have you been considering ways to make your Halloween more Green?  Costume swapping? Better Candy/Rather-than-Candy options? Reusable bags for Trick-or-Treat goodies?
Share them for your chance to win!
Introducing the 2011 Greening your Halloween Blog Carnival. 
About the Blog Carnival:
Thanks to our partners – Green Halloween, Green Planet Parties, Surf Sweets and Green Gift Guide, we are encouraging more people to make green/eco-friendly Halloween choices.
To Participate and for a chance to Win:
Write a blog post about Greening your Halloween.  Looking for ideas/inspiration (you may be doing some of these things already!) check out this information from Green Halloween.
Somewhere in the post include the following:  This post is part of the 2011 Greening your Halloween Blog Tour brought to us by Green Planet Parties, Green Halloween, Green Gift Guide, Surf Sweets and A Little Bit of Momsense.  
If possible, add the Blog Carnival logo above!
Already wrote a post before? This a great way to remind people of your tips and ideas and share it with a new audience.  Simply update the post with the above wording in step #2.
Once your post is ready, add the link to the list below!
Share your post with others! Include #greeninghalloween if on Twitter.
All entries must be received by Sunday, October 23 11:59 EST
Prizes:
One eligible winner* will be selected at random from the posts listed below (not in the comments – linky tool only)
Prize package includes:
Halloween Tablecloth  and Pumpkin Garland from Green Planet Parties and
Happy Green and Spooky Writing!
*Open to residents in Canada, exluding Quebec and the United States