This is an easy classic that gets the kids pretty excited. For those of you at Shopping and Sweets, you may have picked up a bag of Reindeer food that I made.
You can make it ahead and tell the kids it came in the mail, direct from the North Pole, or make it together and they can help give it magic with their Christmas spirit.
Either way, have a bag ready to put out on Christmas Eve so the reindeer can regain their energy and magic.
Have fun!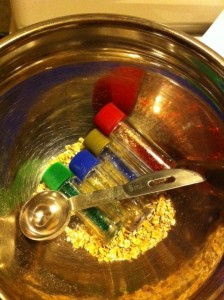 1-Combine sparkles and oatmeal in a small container or bag.  That's it! A variation: Prefer to skip the sparkles? Use coloured sugar instead.