DIY: The Easiest, most inexpensive but pretty fall wreath you can make yourself
This time of year I like to get a giant pot of mums, a few pumpkins and set the scene on my front stoop in a welcoming way.  In a couple of weeks the spiders and cobwebs (fake ones, not real, although those often appear too) will also be put out to spookify the place a little as well.
This wreath that I made for the front door took me about 5 seconds, cost less than $10 and I love the way it looks.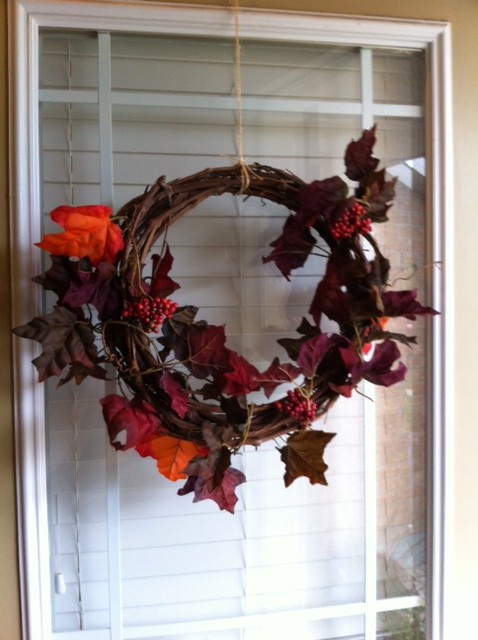 What's needed? A string of fake fall leaves from Michaels and a grapevine wreath.  Both you can get on sale, or using a Michaels coupon (hint: Download the Michaels phone App and the coupons will be with you at all times!).
This grapevine wreath was hand made by Andy's grandfather with his own grapevine.  I love it.  But you can readily buy these as well.
Simply wrap the string of leaves around the wreath and voila.  Instant decor for the door.
What I love about the grapevine is that each season/holiday I can customize  it with something different.  I don't use glue (I just tuck the ends into the wreath) so the leaves come off rather easily.
Prefer a little more spooky? Wrap black cord, ribbon around it and add a crow.
Easy, inexpensive and makes a quick impact.  What more could I ask for?
Recommended