I didn't know these buns were called cloverleaf until someone mentioned them on Instagram and my family agreed that this was the name. I got the recipe from my mother-in-law and they are always a hit around the dinner table.
The very first time I made them was for Thanksgiving when Andy and I lived in a tiny apartment, long before kids. I was making the entire Thanksgiving meal for just the two of us – because I refuse to spend Thanksgiving without turkey – and decided to try her recipe. The buns turned out like hockey pucks, hard and inedible.
In the years since that incident, I've seem to have been able to recover and make a delicious bun. The rising is the key – punching it down before rolling it out, then letting them rise in the muffin tins is how to ensure a full, but fluffy bun.
Recipe: Dinner Rolls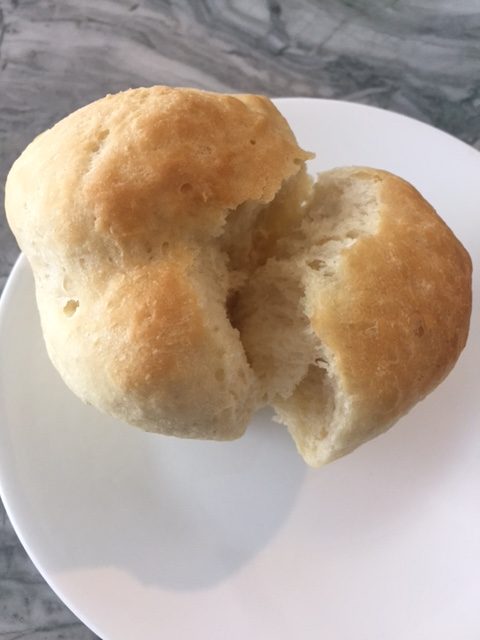 Ingredients:
2 packages of yeast
2 cups warm water
1/4 cup sugar
3 tsp salt
1 egg
1/4 cup oil
5 1/2 – 7 cups of flour (there is a big difference here because it really depends on how the yeast is, the temperature of the room etc. Go by feel – add up to 5 cups to start, then see if you can add more. If not, no worries! I average about 5.5 cups each time)
Directions:
Dissolve the yeast in the warm water for about ten minutes.
Add the sugar, salt and 3 cups of flour. Beat/blend for about 2 minutes (I use a large bowl and the back of a wooden spoon to blend)
Add the egg and oil.
Slowly blend in the rest of the flour, until there is enough that the dough is not sticky, but forming a ball. Use your hands and knead.
Grease a bowl and add the dough ball. Flip it over and cover the bowl with a damp cloth.
Refrigerate and punch down as it rises (I leave out of the fridge and punch down during rising on the counter if I'm baking them sooner)
2 hours before baking, roll into small balls and add each balls per muffin tin section. Brush with melted butter and let rise while covered with wax paper.
Bake at 400 degrees for about 12-15 minutes.
Enjoy!