I feel prepared this year.  I am all set for Easter weekend (I think).  At least I know the chocolates are bought and gifts ready to go.
We don't buy large gifts at Easter, but usually there are some fun new toys to check out.  Since both of my kids have winter birthdays, Easter is a nice spring time excuse to refresh some of the toys.
This year, we have some Lego, some Playmobil, Pokeman cards (Pokeman is new in our house), and of course chocolate.
Here are some ideas and where I got our basket offerings.  If the weather is good, we'll be doing another egg hunt outside this year (but let's hope the squirrels don't get to the eggs first again!)
Easter Basket Ideas 
1- Lego
Even though I was tempted by the Batman and castle lego, I wanted just some blocks for kids to creatively build what we want.  We have a box of Andy's old Lego so a case was an added bonus to start keeping it all together.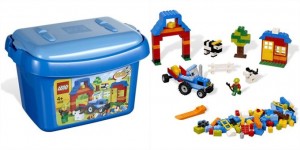 (Lego set, Chapters)
2- Playmobil
Our Playmobil is still very popular in our house (we gave ds a mini set last year at Easter and it was a huge hit) so this year my daughter is scoring the unicorn.  She had a unicorn birthday party and loves them.  This will be well received!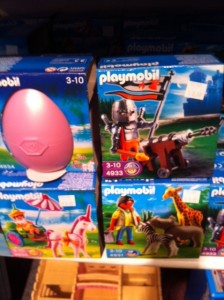 (Playmobil eggs, Tag Along Toys)
3- Fair trade chocolate eggs
I love that I could get chocolate that is Fair Trade for the egg hunt.  I am a huge fan of Cadbury mini eggs and cream eggs, but these little golden eggs will be way better than the foil ones I normally get (and frankly, don't usually taste very good!)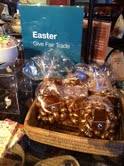 (Divine chocolate eggs, Ten Thousand Villages Ottawa)
4- Local chocolate
Added to the baskets (and for my own pleasure) I've been ordering chocolates from Crazy 4 Chocolate in Ottawa for many holidays now, last Easter included.  The kids love the lollipops!

(chocolate lollipop, Crazy 4 Chocolate)
(this post was in no way sponsored.  These are actual products that the Easter Bunny is bringing to our house this year and that my kids will love!)