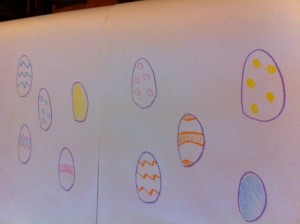 This easy and educational Easter activity had my kids asking to do it again and again.
On paper laid out on our table (although you could use an easel, bristol board, anything!) I drew 10 Easter eggs and coloured them differently, using 4 different colours.
Then I asked them the following questions and put them to work!
How many eggs have blue on them?
How many eggs have orange?
How many have yellow?
How many eggs have zig zags?
How many have polka dots?
How many have stripes?
Find two eggs that match.  Why are they the same (repeat this since there are a few)
How many eggs are there all together?
Next, using a cup or piece of paper, have the kids go to a spot where they can't see the eggs (or have them shut their eyes) and cover up one egg.  
Have them return to the paper and ask them to describe which egg you covered.  You'll be surprised how many times they remember!
Mix up the activity however you like.
Enjoy!