I love sharing movies with my kids that I loved as a little girl.  Most Disney movies fall into this category.  I am realizing now that there are so many they haven't seen yet, including Cinderella.
That's why it's exciting to tell you that Cinderella, a Disney classic,  premieres on Disney Junior on Saturday January 19th at 5:45pm EST.
And, as a bonus, they will also premiere Cinderella II: Dreams Come True  on Sunday January 27th at 10:15am EST. I haven't seen the sequel, have you?
Now, the first movie is airing when my guys will be in bed so I will be setting the PVR for sure!  I think a certain soon-to-be birthday girl may find this DVD as a birthday gift this year too.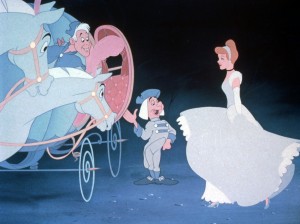 Also, stick around (or set the PVR!) because right after Cinderella is the series premiere of Sofia The First on at 7pm EST!  If you watched the show when Disney Junior had the sneak peek before, you'll know this story of a little girl who's mother marries a King and is swept into a new life as a princess.  It's about caring, friendship and being yourself.  We loved it!
If you are wondering, Sundays at 11:30am EST will become the regular time slot for the new Sofia the First series!
Everyone ready? Happy watching!