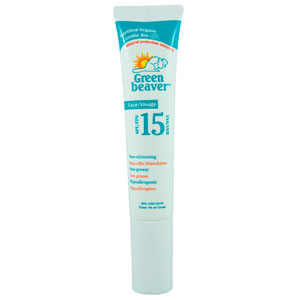 I am really lucky to have gotten to know Gwen, owner of Nayla Natural Care, over these past many years.  What started out as a Twitter/Business relationship (I reviewed product way back in my early blogging days!) has become a friendship. One that is funny but also honest. She is a smart business owner and is my go-to 'green gal' when I have questions about products or ingredients.
From time to time she asks me to check out a new product from the store or one that she is considering carrying. I'm happy to oblige.  She never asks for me to promote on this blog or on Facebook, anytime I do it's because I want to, but she wants me to try things as a customer (because, I do actually buy stuff from her too!).
When I do review products and love them, I'll ask her via email, over coffee, 80 times over,  to get the product in so I can order more and tell people on this blog about it.  When I don't like something, I can be honest with her as well and give it a 'meh' and explain my reasons why (which doesn't mean she won't carry it, it may just be wrong for me).
Which of these two categories did the Green Beaver Certified Organic SPF  15 Daily Face Cream fall into? Pretty sure you can guess.  I loved it.
Green Beaver Certified Organic SPF Daily Face Cream: The Scoop
I first tried it in the summer when my skin is most vulnerable.  I'm a year round SPF wearer, I burn so easily, but I've had the hardest time finding a natural face cream with SPF. I used to get brands that weren't natural, but worked. Then I wanted a more green product and discovered many that had organic ingredients, but still a lot of ingredients that weren't natural.  I wanted less toxic, less stuff, but still sun protection.
What I liked about Green Beaver
I was most worried about any face cream I used to be greasy. In the past, I have found the Green Beaver sunscreen too greasy for me (although, I haven't tried their new spray sunscreen).
However, this is not an issue with the face cream. It goes on easily, it's non-greasy, and unlike some non-natural ones I've tried that have SPF, it's not too thick.  It blends well into my skin.
The Green Beaver Certified Organic SPF 15 Daily Face Cream protected my face from the sun (I found it effective, but do use typical sun caution such as reapplying frequently, avoiding high heat for too long and so on) plus it was a great moisturizer.
In addition, I could put make up on easily over top, again, something that hasn't always been easy with other face creams.
What would I change?
I'm really happy to have finally found a face cream that works for me.   If I could change anything, I do wish it was available in an SPF 30 for the summer (I just reapply the SPF 15 more often and I should note it's HARD to find SPF 30) but also the tube itself, when it gets low, doesn't get everything out. I simply cut the tube to get at the rest, but that made it more difficult to travel with.  A small observation but it certainly won't deter me from buying more.
Bottom Line:
For $20.99 at Nayla Natural Care, the Green Beaver Certified Organic SPF 15 Daily Face Cream is a great buy. I found the tube lasted more more than a month and frankly I've paid a lot more for SPF sunscreens in the past that weren't even natural or organic.
Nayla Natural Care Discount Code – Expired
Interested in buying it for yourself or shopping at Nayla Natural Care for one of their other great items? Gwen is offering readers a 10% discount for the entire store*, no minimum purchases necessary. Discount expires on February 19, 2013 at midnight so get shopping! (ps: heading south? Now's the time to stock up on sunscreen of all kinds!)
Simply use: momsense0213 at check out and save 10%!
Follow Nayla Natural Care on Twitter and Facebook for more product updates and useful green/eco information.
Happy Shopping!
*excluding gift certificates