Mmmm food.
I've really enjoyed being a Sobeys' Better Food Lovers Blogger the past many months, I've loved sharing with readers recipes, products and in-store awesomeness from Sobeys.
It's been easy for me, since I'm there every week buying chocolate croissants getting groceries.  We are huge Sobeys fans and I've shared various posts about Sobeys before.
Now, you get to join in the fun too and have a chance to win!
Participate in the Sobeys Refresh Your Flavours Twitter Party on March 19 from 9 pm until 10 pm EST.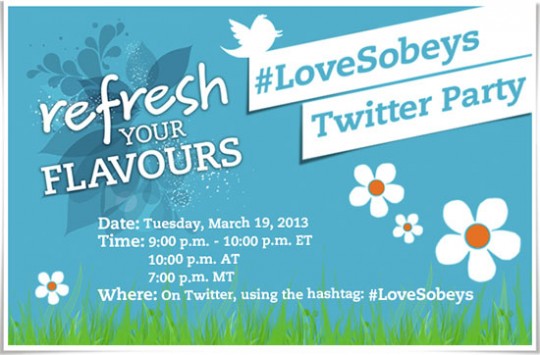 I'll be there, along with the other Sobeys' Better Food Lovers Bloggers, chatting about fresh ingredients as we get into the spring. I saw rhubarb the other day and asparagus and was so excited!
How to Participate:
Head over to the RSVP page and put in your Twitter handle and read about the full details of the party. You need to register for a chance to win! The full rules can be found at this link.
Then, on Tuesday, March 19, get online and follow the #lovesobeys hashtag and answer some questions, add your comments and just have fun!
Be sure to follow @sobeys on Twitter for year-round fresh ideas!
TIP: Twitter parties are a great way to follow new people too!