Our fabulous and earth-friendly advertiser, terra20, has put together this wonderful list of gifts for mom.  There's a little something for everyone here.   You can follow terra20 on Twitter and Facebook for more information. 
Plus, keep reading to find out how you can WIN one of Two $50 terra20 Gift Cards!
_________________________________
Mother, May I?
by Rachelle Mesheau, terra20
Moms are special. They bolster our confidence when its low, they champion our successes and they help us to become the people we are today. Mother's Day is Sunday May 12th and we have a ton of great gifts for Mom in our Top 20 for May. I thought I would pull out a few that really caught my eye, and play with the idea of how you could create your own one-of-a-kind gift baskets.
For the Spa-Loving Mom
At terra20 we've got endless spa ideas, but I've mixed and matched a glo White Twill Bath Sheet, with Tea Forte's new Teas for the Heart collection, a Bean'Stock soap and a delightful First Blush candle.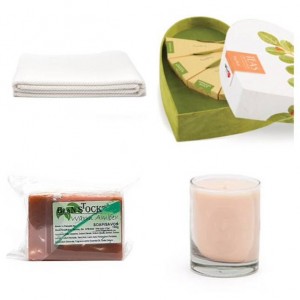 For the Gardening Mom
Why not combine Consonant's Perfect Sunscreen for those long afternoons in the garden, a beautiful ChapelWood Premium Eco Seed Feeder and a Lavender Bath Soak by Bean'Stock to soothe those sore muscles. Of course, don't forget our new addition – Dig It Gardening Gloves, with an interior reinforced pillow top built into the inside of the glove, to protect Mom's manicure and nails!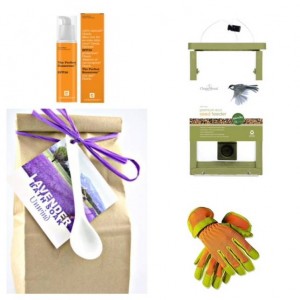 For the Mom Who Loves to Entertain
The Wilton Warming Platter is a must for everyone who loves to entertain and the Global Amici Rainbow Pitcher is perfect for lemonade and summer parties. The Mom that loves to cook will enjoy Fire In The Kitchen's Veggie Blaze seasoning, as well as some serving bowls from Ecologie.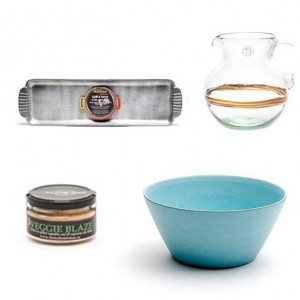 For the Mom With an Eye for Fashion
Any of these would be perfect for the Mom who has a penchant for fashion. I've included ICU cat-eye sunglasses,  Gourmet Body Treats Mineral Foundation (which is incredible!) a Blue Q overnight bag,  and a fashion-forward Nicole Bridger jacket.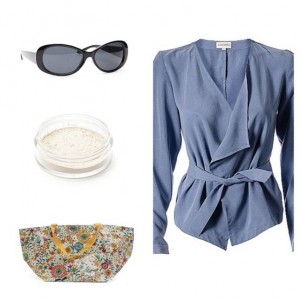 Before Mother's Day, come and check out what we have to offer! Ask our staff for some suggestions and see how you can create your own one-of-a-kind gift for your own one-of-a-kind Mom.
__________________________________
ENTER TO WIN
You have a chance to win one of two terra20 $50 gift cards thanks to our advertiser terra20!
To win, visit the terra20 website and comment below telling me which of their May Top 20 picks would be on your list too! ( I have at least 4 things I've been eyeing that are on that list!!) You'll find the Top 20 list link on the home page, but why not stay and browse a bit too? 😉
Giveaway is open to Ottawa area residents, excluding Quebec.  One entry per person. Two winners will be drawn at random and emailed. Winners have 48 hours to respond or else a new winner will be chosen.  Gift cards will be available for pick up at terra20.  Giveaway ends Wednesday, May 8, 9 pm EST.