My parents got my son the Crayola Marker Maker for his birthday this weekend and this morning, after barely a few sips of coffee at 7 am, the kids were very excited to get started on it.  So I agreed.
I wanted to write a quick review because I know many other parents are in shopping mode for the holidays and you might be seeing the commercials wondering if this is worth it.
Spoiler Alert: It's a keeper.  This gift will be hitting my gift guide (that will be up soon I promise!) for sure.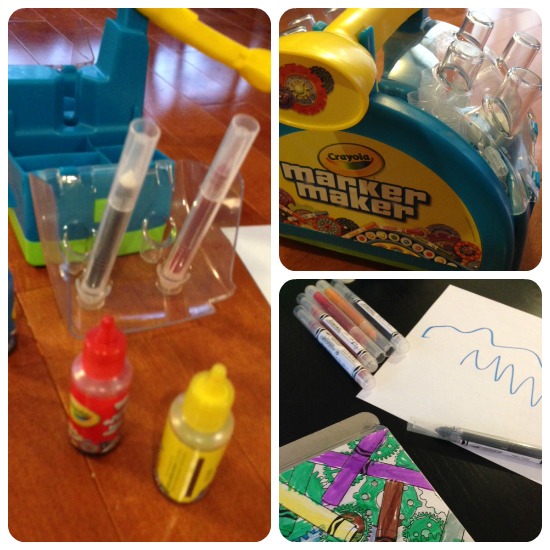 What do I like about it (and more importantly, what do the kids like?)
It's creative to start.  The package itself comes with all of the materials to make 16 markers.  That includes 2 boxes to colour that each hold 8 markers.  This morning we made 8 markers all together and still have another 8 to do another day.
The kids see how combining primary colours make new colours and were excited to be a part of the making process. My son declared that when he's a scientist when he's older, he will make markers and use science to combine different colours.
Everything you need to make the markers are in the kit that also doubles as a containment system.  No random pieces need to be left lying around, there's even a spot to tuck the instructions for future use.
Going back to the creative part, after the markers are made (with assistance from me, more on that in a moment), they got to name and label their markers.
There first set of 8 markers are as follows.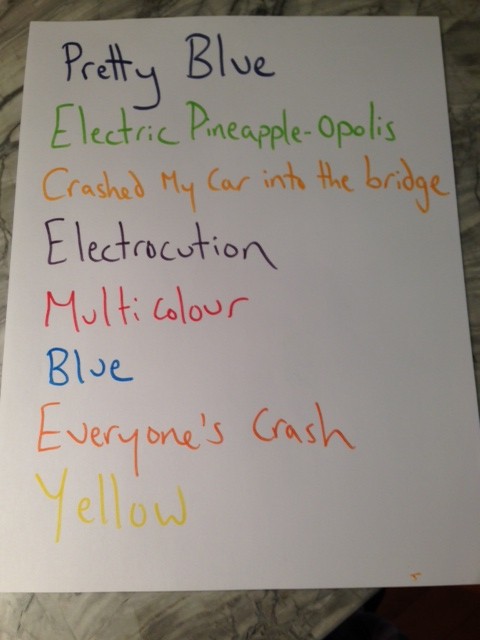 Creative right? (If not a little bizarre 😉
Then they coloured some pictures.
The entire process to make the 8 markers, colour the box, and make some pictures took over an hour.  That's pretty awesome time spent.  And we still have another 8 markers to make another day!
A few notes:
I don't think the marker formula is the washable kind.  Be careful when using these markers around clothing, furniture etc. We used old newspaper on the hardwood floor to protect everything and had very few spills.
The box says that this is for children aged 8 and up. I can understand that for kids to do it on their own they need to be a bit older.  The ink is a bit tough to squeeze out of the bottle, and without some help the process is a bit tricky (it must be followed a certain way.)
However, my kids are aged nearly 5 and 7 and with my help it was an activity that was really wonderful for everyone.  They loved seeing the process and being a part of it.
There are also refill packs to add when you are done the original 16 markers.
Bottom Line:
Sure, you could just buy a pack of markers, but creating their own give the kids a sense of accomplishment, creative ability and they feel these markers are very special, because they made them.
Have fun!