White chocolate almond bark with sprinkles or mini chocolate eggs are an indulgent Easter treat

This recipe may finally be my 'you've gone too far' recipe.  Okay, maybe not, but it definitely is decadent, sweet and ridiculously tasty.
I have always loved white chocolate. I know it's not to everyone's liking, but I love it.  When I was a kid, the Easter Bunny would often bring me a white chocolate bunny and I was super happy.
Now, I've taken traditional white chocolate (user Baker's White Chocolate) and made it into an Easter treat.  These would be great packaged up to give to friends, or on the table with your other Easter desserts.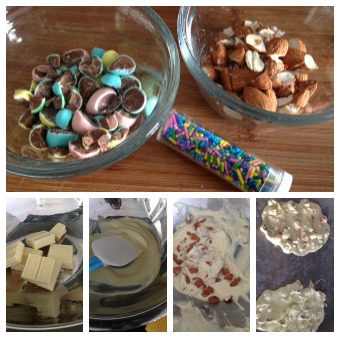 I've done two different versions – one is with mini chocolate eggs, because one kind of chocolate wasn't enough, the other with almonds and sprinkles.
Enjoy!
White Chocolate Bunny Bark
Recipe Type
:
dessert, treat
Author:
Prep time:
Cook time:
Total time:
Ingredients
1 Box Baker's White Chocolate baking squares
1 small package mini chocolate eggs, coarsely chopped (about 1/4 cup)
1/4 cup chopped almonds
coloured sprinkles
Instructions
In a double boiler, or microwave, melt 6 oz of chocolate.
When fully melted, add chopped mini eggs, reserving a couple.
Mix. Spread on waxed paper. Top with reserved chopped eggs. Set until firm, or place in the freezer to speed it up
Break into pieces and serve.
For almond bark, repeat above, replace eggs with almonds. When spread on waxed paper, sprinkle with sprinkles.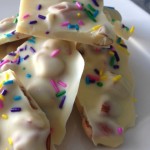 ______
Disclosure: Please note this post is sponsored by Kraft Canada as part of my Kraft What's Cooking contributor partnership. I have received compensation but all chocolate bark consumption was my own.  Maybe I shared a little.  For more Easter desserts visit the Kraft Canada website