When I make dinner for a small group of people, I usually try to experiment with some new recipes. I've made pork tenderloin and boneless roasts before and have almost always used some variation on an apple/rosemary combination. I find the flavours go well together and typically I find pork to be bland, so the sweetness of the apples and savoury herbs suit it well.
I made this bone-in pork roast recently and I loved it not only because it was super easy, tasted delicious but because it also presented well.
But don't wait for guests to make this, it can be a family meal anytime.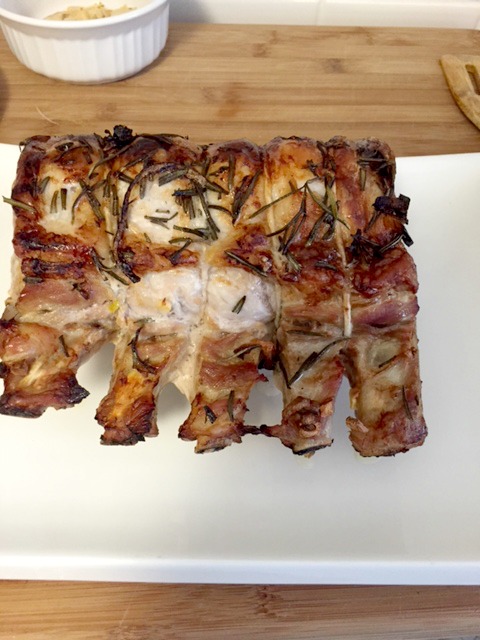 Ingredients:
3-4 pound pork roast, bone in
2 onions, sliced
4 apples, cored, cut into slices
2 sprigs of fresh rosemary, chopped
3 cloves of garlic, chopped
1 1/2 cups apple juice
1/2 cup broth or water
salt and pepper to season the meat
Splash of Olive oil
Directions:
Place pork roast in an large roast pan.
Splash olive oil on top. Season with salt and pepper.
Coat with chopped rosemary.
Add water and apple juice to the pan.
Arrange apples and onions all over the pan, places some on top of the pork.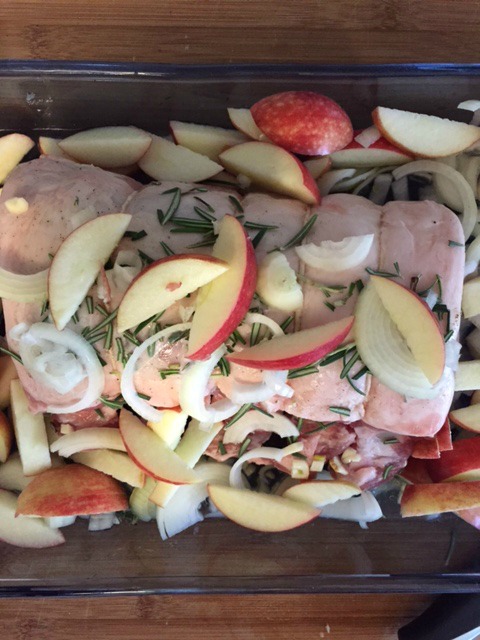 Cover with tin foil.
Roast at 350 degrees celcius for about 2 hours.  After and hour and a half, remove tin foil (set it aside) and let brown and finish cooking (about 30-60 minutes more. Use a meat thermometer to judge cooking time to bring the pork to the desired temperature.)
Let rest for 15 minutes.  Cover it with the tin foil you had removed earlier to help keep it warm.
Meanwhile, pour the juices, cooked apples and onions and everything in the roasting pan into a stove top pan.  Bring to a boil and reduce slightly until the apple/onion mixture is thickened.  Serve on top of sliced pork.