Every time I clean my master bedroom closet, which is host to my clothes, Andy's clothes, luggage, old office stuff, old pillows (why?), and seasonal gear (like winter jackets in the summer), I seem to have trouble keeping it tidy.
I have organizers and baskets and drawers. So what's the most difficult part of keeping my closet organized? I have too much stuff.
It's simple really, and I know that's the case. My Instagram feed right now is full of people reducing their stuff in their house too thanks to a new organizational book that has come out. I want to read it, and yet, I sort of know that getting rid of stuff is the answer. I think there's more to it than that; the reason why I keep so many things is part of the issue.
We are constantly reducing the items in the house, and reducing the items that we buy. We consign, donate and organize closets and rooms constantly in an effort to feel less cluttered. There is something to be said for a cluttered house and cluttered mind.
I realized that in my own closet, I need to start approaching the tidy-up the same way I do with the kids.  I mercilessly can get rid of their clothes that don't fit, that aren't going to be worn, that we don't need. And yet, with my own, it seems like a Herculean task.
I know what I need to do. So I'm writing them down below. These are basically the same steps I take for the kids, and it's time to do it for myself again.
Ready to clean out your closet, too? Here are 7 questions to ask when we look at each piece of clothing:
1) Where will they go when I get rid of them?
Starting off with a plan is a great way to begin. I always have a bag or box set aside for donation, a bag for consignment if applicable and a garbage bag (which I hope not to have to use often).  By sorting the clothes into piles right away, I find it easier to manage when I'm all done. Each bag has a destination.
I can drop off my donation bag to Value Village, and donate to local and national non-profits at Value Village, or better yet, I can arrange a pick up time! They work in partnership with a local charity (for me it's the Canadian Diabetes Association) and it's easy!
2) When was the last time I wore this?
A lot of people recommend that if you haven't worn something in six months, to get rid of it. The problem in this country is that 6 months doesn't even cover a complete seasonal change. So let's go with one year. If I haven't worn it at all in the past year, I'm going to ditch it.
3) Do I need this?
So, if I have 8 different zippered hoodies, do I really need all of them? No. There are items in the closet that were a good idea at the time, but I don't need all twenty scarves I seem to have collected. Once upon a time, when I was working out of the home, I needed an outfit for each day of work. Now, I need a work outfit maybe once a week for a meeting or networking event, and a few times a year for conferences. I don't need to be keeping a complete supply of work clothes in my closet. The same goes for casual clothes. 6 pairs of jeans is not necessary.
NOTE: I always update my wardrobe with a few new items each season. There are certain pieces of clothing that just don't wear well, like tank tops and t-shirts, for season after season. While reducing consumption is important, there are items I can't avoid replacing.
4) Does this even go with anything?
We all have staple items in our closet. In fact, if I could be back in time 10 years ago, I would tell myself to stop spending money on clothes that are poorly made and invest in quality pieces. These staples go with nearly anything and everything or are my go-to pieces of clothing when trying to dress up. I have a few outfits and individual pieces that I love and are super versatile so those will stay. Anything that was a trend likely can go. If I can't make a complete outfit with the piece, it needs to go too.
5) What do I do with these shoes?
Same questions apply with shoes and accessories. When was the last time I wore them? If it's been ages, they need to go. I have some shoes that only get worn once a year (hello pretty heels) but I'm keeping those. Otherwise, the shoes that I haven't worn in 7 years since I was working? It's time to say goodbye.
6) Does this even fit?
This probably should be higher on the list and one of the first questions to ask. I suspect I'm not the only one that keeps clothing thinking that 'one day' I will fit into them again. Why do I do this? If I can't wear it now, it may never happen. And all that does is remind me that I don't fit into it.
Case in point: I love polka dots. I love this top. But it simply doesn't fit. I'm holding it together here. It clings in all the wrong spots. It's gotta go.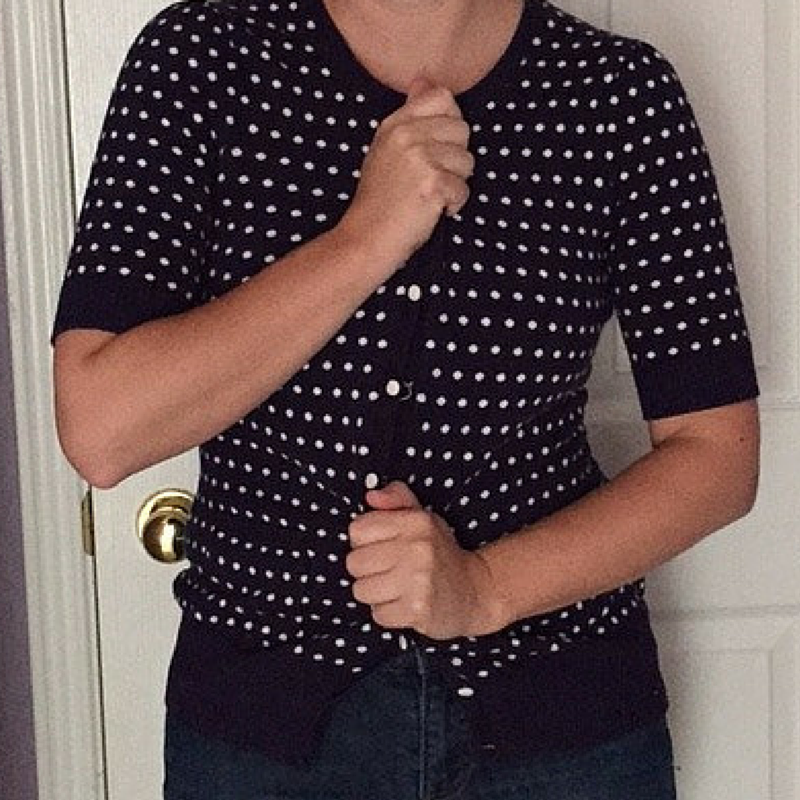 7) Why do I keep saying 'maybe'?
"Maybe I'll wear this one day". WRONG. Ditch it. I do this all the time. Go back to the other questions. If I can't say I've worn it recently, or that it's a work event outfit, a maybe means it's not going to happen. I give too many items of clothing a pass thanks to the word 'maybe'.
There we have it. My 7 questions that will help get to a cleaner, more organized closet.  Almost every quarter I go through my clothing, but I need to be more strict about it (and follow these questions more closely.)
Do you think I can follow my own advice? Time will tell. It's time to reduce and remove the clutter from my closet, and hopefully my mind. Who's with me?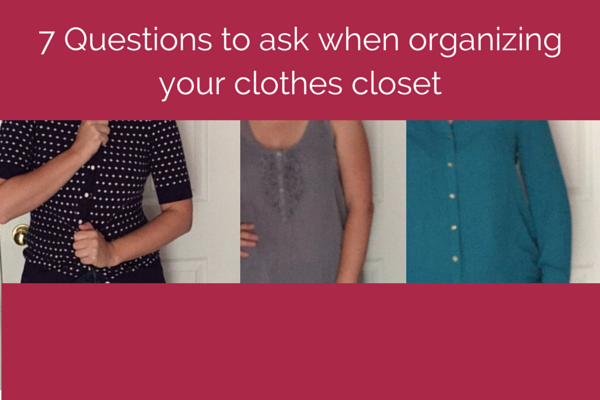 ___
Disclosure: This post was written in partnership with Value Village and I received compensation. All opinions are my own. While I can gladly donate my items to Value Village, for some reason they won't also do the cleaning for me 😉