When we invited some friends and their kids over for a play date, the kids didn't respond too well to my table set up that clearly indicated a back-to-school theme. And while I explained that it was staged for some blog work, I still think they were shuddering a bit.
But whether the kids (or the adults) like it or not, in a couple of weeks the kids will be back to school and we will be packing lunches before we know it. There is something distinctively different (and upsetting) about packing a lunch hours before you are going to eat it, isn't there?
Thanks to Funkins, the reusable napkins that I've featured on the blog before and that I've fallen in love it, I kicked off the mini back-to-school campaign with some friends to introduce them to making greener school lunches by using reusable napkins.
For us, Funkins have replaced paper towels and other reusable napkins that I had been sending to school. You don't have to send napkins, but frankly, I find it easier to send them and help reduce some of the mess rather than take the chance without them. And yes, our kids will still end up using their sleeves from time to time, but the Funkins reusable napkins are there to use (and based on how they come home, my kids are using them). Plus, they double as a muffin or sandwich wrapper.  There is a huge selection of fun patterns too!
I think everyone, kids and moms, enjoyed our afternoon get together.  I kept the lunch simple and  featured snacks and school lunch ideas to remind all of us of what is to come. This included cut up fruits and veggies, cut up meats, and a 'make-your-own' wrap option.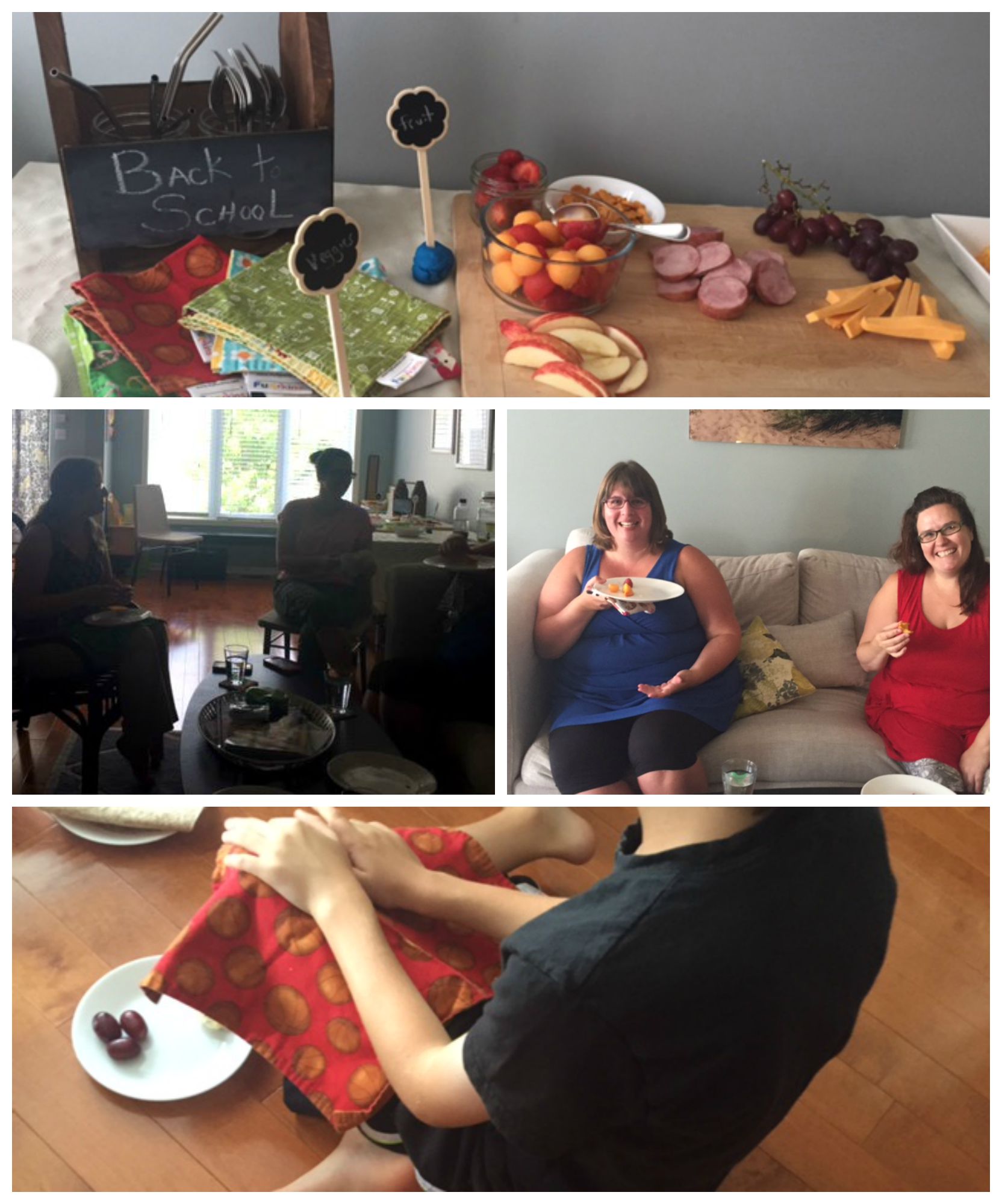 Tips for preparing back-to-school lunches
  Make sure you have enough reusable containers!
Test out your containers to ensure the kids can open them easily.
Chat with the kids about their favourite healthy foods to include. School lunches aren't when I recommend experimenting with food. You need them to eat!
Wash fruit and veggies as you buy them so they are ready to grab and go when making lunches, or if the kids are helping out, they are ready for them to pack.
Don't forget your reusable Funkins!
---
Disclosure: I am taking part in the Funkins blog campaign. While I have received compensation as part of my affiliation with this program, the opinions shared are my own. In the case of full disclosure, I have questionable friends sometimes. I hope they are reading this. If you are, thanks for coming! 😉