It's the most wonderful time of the year…for baking! I am excited to get into the kitchen and make my usual baked treats for Christmas. Most of my recipes are quite easy (like my ginger cookies) and others are traditional and delicious (like my shortbread).
However, every so often I like to make something new. For example, a twist on Rice Krispie squares. Sure, we've done some Minecraft building with them before, but this time, I wanted something that looked festive.
These were easy to make and kids of all ages seemed to love them (unless you are my 6 year old who doesn't like Rice Krispie squares. HOW?!)
Make your usual recipe for Rice Krispie squares (like this one), but before you add the Rice Krispies, add some green food colouring to the butter and marshmallow mix.
Then continue and press into a pan. Add a few sprinkles for decorating across the top of the squares. Press them down firmly. (NOTE: I use parchment paper in the pan to help prevent sticking)
Then, using a tree cookie cutter, cut out your trees. Cut a paper straw in half and insert in the bottom of the tree. You may have to reshape the tree a little!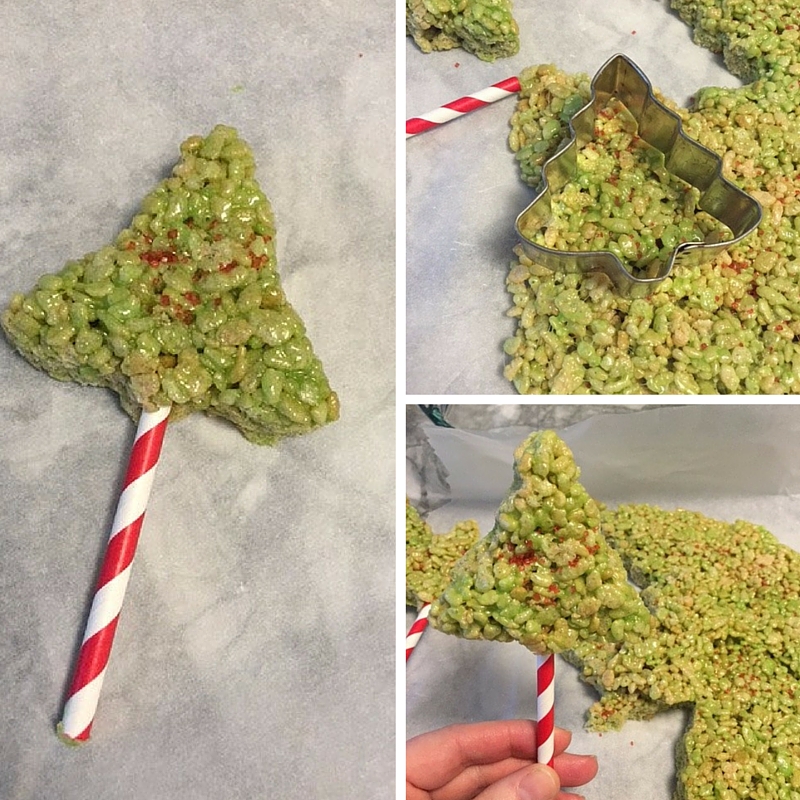 And that's it! Festive, fun, delicious. And the leftover squares that couldn't be used? No matter what their shape, they still taste great!
Enjoy!