The Nepean Creative Arts Centre and Nepean Visual Arts Centre welcome families for art adventures
We had such an amazing time at a recent Nepean Visual Arts Centre family craft workshop. It was a holiday workshop that took about 2 hours and included hot chocolate, cookies and family bonding time! You may have seen my picture of our super cute reindeers that we all did from Instagram.
What I loved about the workshop was not only the cost ($66 for the entire family!) but also that it was real quality time together. No other commitments, no phones, no dishes in the sink staring at us – it was our family (surrounded by other families!) getting creative. Each of our personalities came out in the results and they now are proudly displayed in our living room.
It was not only agreed that we would absolutely do another workshop next year, but we've already recruited my sister and her family who want in on the crafting action as well!
The Nepean Creative Arts Centre and Nepean Visual Arts Centre offer classes, workshops and programming for kids, families and adults all year round.
In 2017, they have more offerings that everyone will enjoy! A few that have caught my eye:
Canvas and Cocktails (I wrote about my experience in a previous blog post), the Clay Wheel Workshop and I think a lot of kids will love the acting workshop! For a full list of upcoming dates, visit their website.
TIP: Experiences like this make wonderful holiday gifts!
Make Memories – Give the gift of art this holiday season with an arts centre gift card

When you are faced with the task of choosing a gift for someone you love, it can be daunting. Look no further than a gift card that they can spend at the Nepean Visual Arts Centre and the Nepean Creative Arts Centre. Whether your special someone is a painter, potter, dancer, singer (the list goes on), there is a class for everyone!

-Nepean Creative Arts Centre and Nepean Visual Arts Centre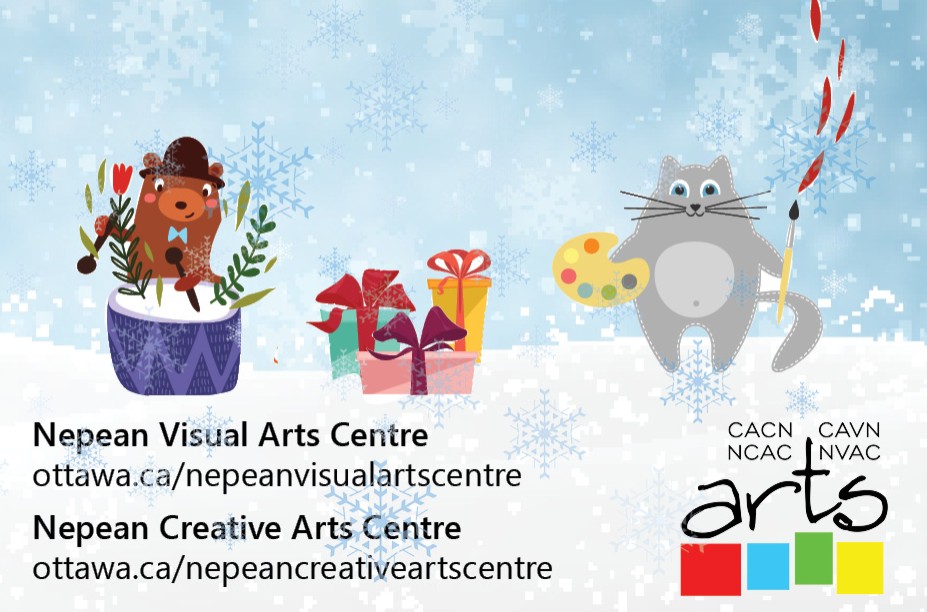 Disclosure: NCAC is a blog advertiser