Some recipes are just winners right away. Others, I file under 'well, we've tried it' and never speak of them again. With peaches in season, I wanted to find a way to jazz up my chicken thighs and this recipe popped up.
I modified the original Pioneer Woman recipe to make it work for us – I made the BBQ sauce from scratch rather than using bottled stuff and adjusted some proportions but the end result is that I want to make this over and over again. Enjoy!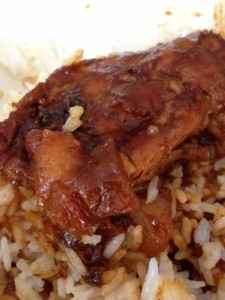 Ingredients:
6 chicken thighs
2 tbsp olive oil
1/2  onion, diced
1/2 cup Whiskey
1 cup BBQ sauce (recipe below)
3-4 peaches, peeled, diced
1/2 cup Water
1/2 clove of garlic, chopped
BBQ Sauce Recipe
1/2 cup ketchup
1/4 cup water
1/4 cup molasses
2 tbsp brown sugar
1/4 cup vinegar
1 tbsp worcestershire sauce
Combine above together. Add more vinegar or sugar as your tastes prefer.
Chicken Recipe Directions:
In a large skillet or pot, add olive oil and onions and garlic.  Cook until onions are translucent.
Add chicken and cook until browned.
Add whiskey and let burn off.
Add BBQ sauce and peaches, coating the chicken.
Simmer in pot/skillet until chicken is cooked through and sauce has thickened.
Serve over rice or your favourite side!