I love using fruit in a savoury way. Berries thrown into a salad (or salad dressing), apples with pork, cherries with duck, stone fruit with fish. The sweetness of the fruit matched with savoury herbs, vegetables and meat is delicious to me.
That's why when we had a gorgeous piece of cod that I was going to pan fry for supper, it was a no-brainer to use our in season Ontario peaches to create a quick accompanying jam to top on the fish. Now, don't get me wrong. The cod was so fresh that the butter fry I cooked it in left the white fish tasting amazing on it's own, but again, I like a little sweet and savoury bite to go along with it.
This simple jam is quick and can be made in advanced. It would pair well with a chicken or a pork too, I think.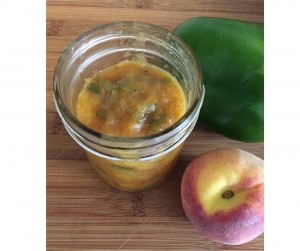 Peach Pepper Jam
Ingredients:
1/4 cup chopped green pepper
3 peeled, cut up peaches
1 tbsp sugar
1 tsp lemon juice
splash of olive oil
Directions:
In a small sauce pan, add the olive oil and heat the pan. Add the green peppers and peaches and cook down until peaches are breaking apart and green peppers are softening.
Add the sugar and lemon juice. Cook until the mixture thickens. Break apart the pieces along the way.
Serve warm, or store in the fridge until you are ready to heat it up to go with your supper!
Enjoy!