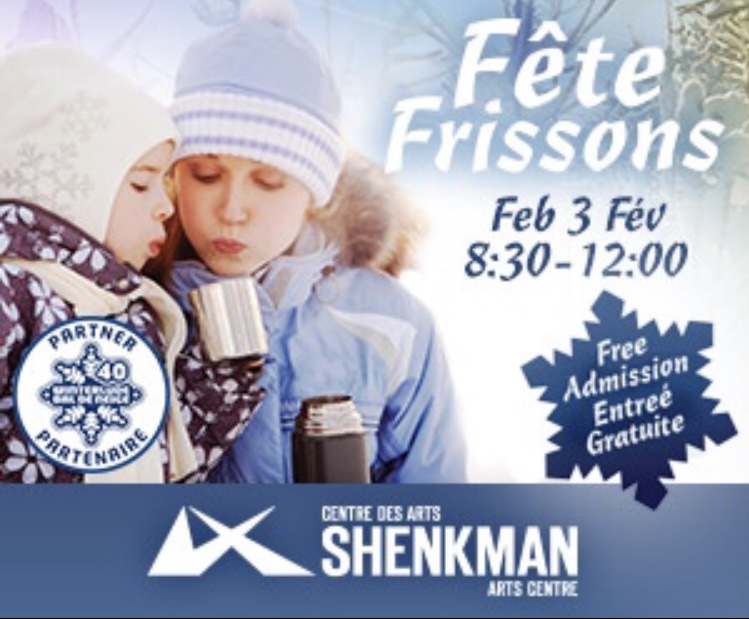 This Saturday, February 3, from 8:30 until 12 pm, visit Fête Frissons with your family!
If you live in the Ottawa/Orleans area, you'll want to check out Fête Frissons on Saturday, February 3 at Shenkman Arts Centre. Not only is there a pancake breakfast being offered for only $5 from Cora's Breakfast and Lunch (and who doesn't want to start their weekend with pancakes?) but the rest of the event is FREE and family friendly.
Outdoors there will be fun winter games and indoors there will be many activities like face painting, mini performances, story readings, makerspace and more!
Many local community partners will be participating. The Ottawa School of Art, the Ottawa Public Library, and Bob MacQuarrie Recreation Centre (just to name a few).
Here's a sneak peek at what will be happening in the lower lobby and outdoors, just to give you a taste of all the exciting activities your family can take part in. There's even more happening in the upper lobby and on stage! The full schedule can be found on the Shenkman Arts Centre website and you can download to print it.
Lower Lobby

8:30-12:00 – Cora Breakfast and Lunch – $5 Pancake breakfast

8:30-12:00 – Make-an-instrument – Sonia Arenas

8:30-12:00 – Face Painting – LynneArt

8:30-12:00 – Makerspace – Ottawa Public Library

10:00-11:30 – Tai-chi Demonstration – Master Zhang Hongxu

Outside on the Minto-Orléans Agora

9:00-12:00 – Winter Fun + Games – Bob MacQuarrie Recreation Complex and Ruddy Family YMCA/YWCA

9:00-12:00 – Maple Syrup Production – Cumberland Heritage Village Museum

11:30-11:50 – Fire Weavers Show – Ottawa Circus School
Even though there are fun activities happening outside, I love that there are so many events taking place indoors as well, which means that no matter what the weather brings, you'll still be able to fully enjoy Fête Frissons.
Bundle up, and head to Shenkman Arts Centre this Saturday!
Tweet "Saturday, February 3! From 8:30-12 pm is a FREE family fun event at @shenkmanarts – check out Fête Frissons! #ottawa via @bitofmomsense"]
Shenkman Arts Centre is a blog advertiser.