March Break Camps at the Nepean Creative Arts Centre and Nepean Visual Arts Centre
March Break in the Ottawa area is quickly approaching, and if you are struggling with booking a camp for the kids, it may be time to check out the Nepean Creative Arts Centre and the Nepean Visual Arts Centre. Having a creative outlet for their week of March Break might be the perfect way for the kids to try something new, express themselves and connect with new friends.
Below I've listed a few sessions that I think would appeal to kids of different ages (they are for kids aged 6-11, depending on the course). At the time of writing this, I selected classes that still had space left (some other sessions that looked really great are already full, so if you miss out for March Break, remember that there will be summer camps offered too!)
I love that each one is a bit different but still creative. Hands-on art programming, dance, and theatre (including musical theatre!) might be just what your child hoped to do during their break. Some camps are four days, others are for the entire five-day week.
Drawing, Painting and Sculpture – kids aged 6-9
"Explore your imagination through scultpure, drawing and painting. Let your creativity flow as you use different techniques and materials to learn advanced methods and explore new skills."
Want to register? Click here. 
Urban Dance Camp, for kids aged 6-9
"This unique style of dance incorporates hip-hop, breakdancing, pop'n lock, and freestyle. Master the dance moves from each style in a fun and energetic class."
Want to register? Click here. 
Theatre Camp, for kids aged 7-11
"Camp meets arts collective. Expand your dramatic skills by exploring character development, voice, movement and performance techniques – while giving theatrical expression to your ideas. Performance on the last day in the theatre."
Want to register? Click here.
Musical Theatre Camp, kids aged 7-11 (note – this is a four day camp)
"From act one to curtain call! Learn vocal techniques, singing, choreography, acting, and a Broadway-style song and dance."
Want to register? Click here.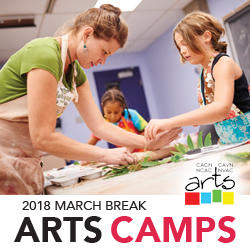 Nepean Creative Arts Centre is a blog advertiser. All opinions are my own.