At the end of the month, Andy and I are going to a wedding. It will be the first time we leave the kids. We are leaving them with Grandma and the aunts and cousin and in very capable hands but still. It's a huge deal.  But that is for another post.
At Christmas, when we went to Windsor, I went shopping. Turns out my go-to outlet mall right near my mother-in-law's house now has a Factory Banana Republic.  I think Andy felt me almost fall over as we were holding hands walking around.  "Omg Andy.  Andy. Do you see that? Andy. It's an outlet.  Everything is 50% off! Everything!!".
The store is amazing, but coming off a very busy month (hello kitchen reno and holiday shopping) I held back.  But with deals so great, it only made sense to shop for something to wear to the wedding.   (side note: I'm heading back to Windsor soon. And my birthday is soon.  DO THE MATH 😉
I tried on a few wonderful dresses, some didn't fit (I'm still figuring out my new post-baby/nursling size it seems) but this one stood out.
(please pardon the air-dried hair and smug 'I hate selfies!' look on my face 😉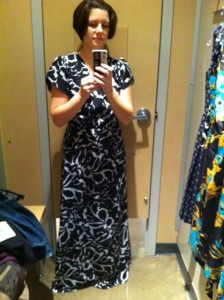 I took pictures of the other dresses and showed Andy afterwards and he instantly picked this one too.
The original price of the dress was $109.  But I pulled this off of the clearance rack.  BUT everything, even clearance, was 50% off.  My total price? $19.75.  I WIN
So, I already have black heels (many pairs – peep toe, pointed toe, black and white) but now I'm thinking jewellery.
I am leaning into the greens (it is the colour of the year after all) which I think for a winter event would be lovely.  Greens and golds.  But I am also thinking that a blue or coral could be kind of fun.  I already have a gold necklace, and a gold/white bracelet that I could build from. Here are some ideas:
What colour would you go with?  I'll share on Facebook what I finally pick before we go out!